After Cortana failed to get traction, there was news that Microsoft would not develop the service furthermore. However, we have now learned that in the upcoming Windows 10 release, Cortana is set to return with a renewed focus on productivity and enhanced security and privacy.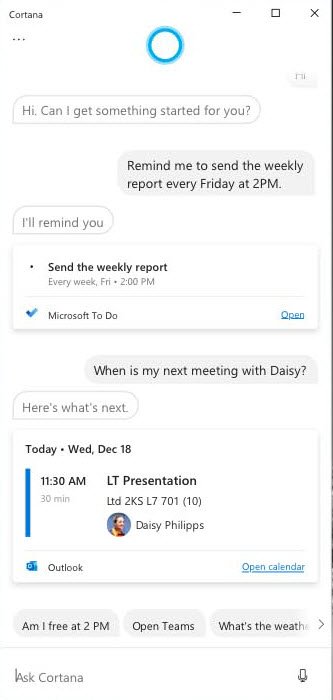 New Cortana will focus more on your productivity
Cortana was designed to bring the power of conversational computing to all its devices and different platforms but was killed off for iOS and Android. The move appeared to be a part of Microsoft's strategy. It wanted to focus more on getting enhanced and seamless experiences for Windows users. The blog post reveals the personal productivity assistance will come as a free update to the latest version of Windows 10 coming this spring.
The upcoming update to Windows 10 will include access to a new Cortana experience with an emphasis on productivity, helping you quickly find the information you want across Microsoft 365. The new Cortana experience in Windows 10 features a chat-based UI that gives you the ability to interact with Cortana using your voice or the keyboard, mentioned the blog post.
To begin with, Cortana will assist users in better managing their schedules and tasks by staying on top of their calendars and focusing on what matters with meeting insights. The capability will be first rolled out for English (United States) users. You'll also notice some changes in the way how Cortana works in the latest version of Windows 10.
We've tightened access to Cortana so that you must be securely logged in with your work or school account or your Microsoft account before using Cortana, and some consumer skills including music, connected home and third-party skills will no longer be available in the updated Cortana experience in Windows 10.
Microsoft also clarifies post update, that some consumer skills like music, connected home and third-party skills will no longer be seen in the updated Cortana experience for Windows 10. The service though will continue to help you get answers from Bing, set alarms and timers, open apps, adjust settings, or give you a joke you can share with others.
For more information on this topic, you can visit Windows Blogs.