Now, this is the weirdest issue I've ever come across, but listen up, in case you are facing the same. If you have got yourself a new Dell 6430u lately and after a certain amount of time, it has started to smell real bad, it's not just you! This issue has recently come to light in a particular laptop model of Dell, i.e. Dell 6430u.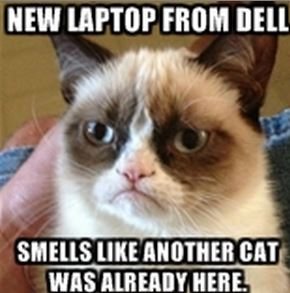 What are customers saying?
Check out the six-page long thread on the Dell Support forum, where several Dell users have reported that their new Dell Laptop gives out a weird stench, which smells like Cat Urine (no kidding!).
The thread is on full swing with users complaining the same issue over and over again, some of whom first supposed that it's coming from their house cat, in fact one of the customers got rid of their cat to get rid of the stench, but no use after all, it's the laptop.
The posts clearly depict the same problem and as per the users, it's coming from the keyboard of their Dell Latitude 6430u. Many said that they are embarrassed to take their laptop to work and expect Dell to chalk out a solution soon. On the other hand, Dell has acknowledged the issue and has replied that neither it's not going to affect any user's health, nor it is being caused by any feline species.
Well we hope that Dell finds a solution soon and put all the grievances to rest.
Via.
UPDATE: Dell appears to have found the reason. It has announced that the palm rest is to be the source of the smell. The company plans to start offering replacements to customers very soon.