The Internet Explorer browser will soon retire a few months from now. Meanwhile, its sibling and cross-platform web browser Edge will be shipped with some new enhancements, particularly in Microsoft Edge for IE Mode making the browser more robust and productive.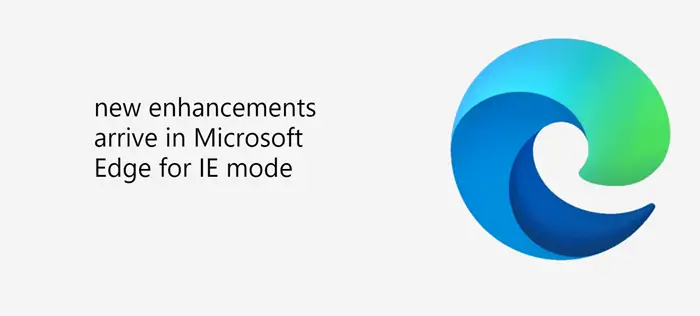 Microsoft Edge for IE Mode set to receive new enhancements
Two major changes that will be introduced to IE mode will include the ability to restore IE COM object calls and second, the implementation of bidirectional cookie sharing. Both these changes will be incorporated in direct response to customer feedback.
IE retirement is a major milestone in digital transformation for everyone. Like our customers, we've been working hard on this journey to IE retirement, and we couldn't have gotten here without you. Since we announced IE retirement last May, you've provided invaluable feedback that has led to improvements in Internet Explorer mode (IE mode), the legacy compatibility capability in Microsoft Edge, wrote Eric Van Aelstyn in a Windows Experience Blog post.
Many apps and workflows running on Internet Explorer relied on E COM objects as essential pieces of their functionality. But once IE browser stand-alone was disabled, some of those scenarios inadvertently broke. Developers complained about it a lot.
This incidence has forced Microsoft to accord the highest priority to the restoration of IE COM objects which has now already been deployed widely. So, if you're using the latest Windows 11 and Windows 10 updates, IE COM objects have been restored to their original functionality and will continue to work after the IE11 desktop application is disabled.
Secondly, it was seen that cookies in IE mode passed session information from sites using the modern engine to sites using the legacy engine, but the same didn't work for the reverse. This limitation has now been removed as Edge with IE mode will now allow its users to manually set cookies to share in both directions—from modern to legacy and vice versa.