Microsoft had earlier hinted, it was planning to create a new website, exclusively for Edge add-ons and extensions. The idea has now been shaped into a reality. Microsoft's Extensions for Microsoft Edge page is now live with some very useful extensions.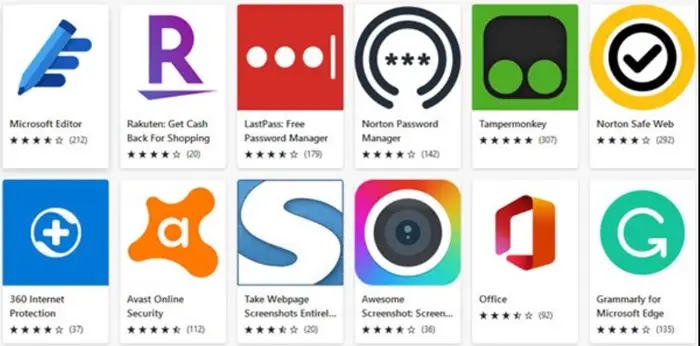 Extensions for Microsoft Edge page goes live
A dedicated 'Get extensions for Microsoft Edge' button is now visible on the edge://extensions/ page. When clicked it directs the user to add-ons page. The search page has been also updated with extra details on extensions found.
The Home section on the left displays a variety of extensions that help Edge users manage passwords, learn new languages, and do other things. The entire content is further curated into multiple categories and different sections. For example, there's
Editor's picks – Top extensions picked by the editors
Trending – Lists extensions that are popular or widely discussed online
Get Started – suggests some extensions based on recommendations.
Some of the add-ons that add to the utility of the browser include,
Dark Reader (an eye-care extension)
Microsoft Editor (Intelligent writing assistance)
LastPass (Free Password Manager)
BeeLine Reader (color gradient makes reading faster)
With this redesign, our goal was to completely transform the user journey. To help users easily discover and find extensions for their needs, we've introduced a carefully curated storefront with an array of inviting new collections. The search page was also redesigned to offer more insights into the search results while significantly improving navigation, wrote Fawkes of Microsoft in a blog post.
The redesigned page aims to address several key concerns raised by users around the discovery and usability of the platform. While the Edge add-ons website offers its users the easiest way to find and install extensions, it's also possible to get extensions from Chrome web store.
The main page of the website displays a 'Chrome Web Store' link which users can click to go to the Chrome Web Store and get the desired extensions. This remains one of the biggest advantages of a Chromium-based Microsoft Edge browser.