Microsoft Office is working to roll out a new web interface. As a result, the Office.com web portal will receive a major design overhaul in the days to come. Apparently, the company is nearly finished working on the new Office.com layout, which will soon be rolled out to all Microsoft 365 subscribers worldwide.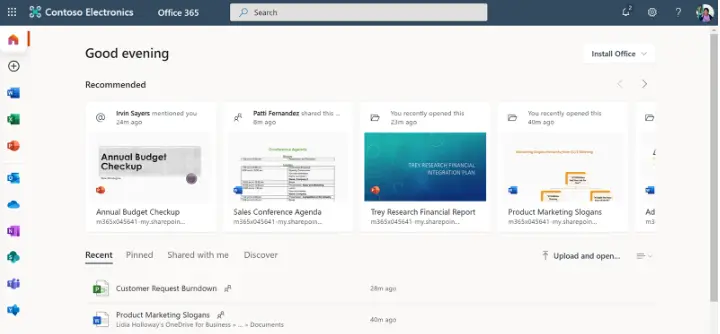 TheWindowsClub has discovered a screenshot of the new, upcoming Office.com homepage. Although Microsoft will start rolling out the new Office.com to Microsoft 365 customers sometime next month, a complete rollout is likely to be finished by July 2020.
"We are updating the layout and navigation of Office.com and the Office App in Windows 10 to improve the usability based upon customer feedback," said Microsoft 365 in its roadmap. "Users will find their documents front-and-center, and will be able to access their applications within a more organized page structure."
Updates to Office 365 App Launcher are currently under development. As a result, Office.com and the Office 365 app launcher will show the same set of apps. Recently used apps will be pinned for users on both.
"We've removed the ability to self-pin apps because the system now pins recently used apps automatically. In both cases, users have the ability to unpin apps that have been pinned automatically from recent usage or manually by an admin."
Microsoft aims to improve page loading performance for office.com and portal.office.com users by removing redirection from portal.office.com. Hence, users will land on the new and improved office.com.
Microsoft 365 is working to add Semantic search in Microsoft Search using natural language search capabilities via Bing, SharePoint, and Office.com. This way, users will experience improved search accuracy since the search engine will understand a user's intent and contextualize the meaning of search terms typed, further leading to more relevant search results.
In related news, Microsoft is rolling out a new feature for Office users — pin your folders in the Save dialog. This way, Office users can quickly save Word, Excel, and PowerPoint files using Pinned folders.