Microsoft has announced the general availability of Yammer featuring new interface, features, and integrations. As a result, the new Yammer experience is now accessible across SharePoint pages, news articles, and SharePoint sites.
To recall, Microsoft first promised to bring its most-awaited design overhaul to Yammer, the company's enterprise social network, at Microsoft Ignite 2019. In addition to the new Yammer interface, Microsoft had also promised to implement certain new capabilities and integrations throughout Microsoft 365.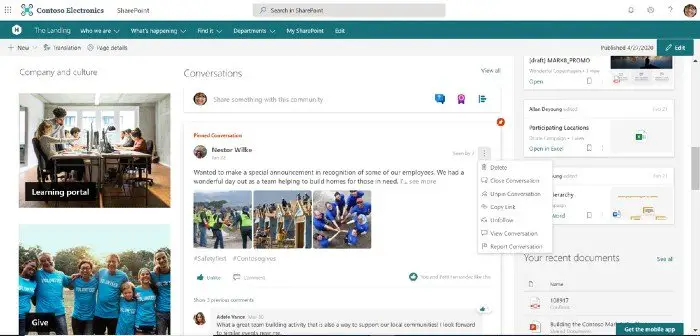 New Yammer in SharePoint Online
In its recent blog post, Microsoft wrote:
"The updated Yammer Conversations web parts integrates conversations from any Yammer community, topic, user, or home feed, so you can stay connected to the discussions happening across your organization and add social conversations while still in SharePoint."
As a result, the updated Yammer conversations web parts will automatically replace all your previous Yammer conversations web parts, further eliminating the need for any manual action for site administrators. Let's take a look at a complete changelog with the new Yammer interface in SharePoint online.
The new Yammer consists of updated visual appearance as far as questions, praise, and polls are concerned. The updated Yammer also adds some new changes and functionalities to publisher-centric features in SharePoint. As a result, SharePoint users can directly create any type of Yammer post, be it polls, questions, praise, among others.
SharePoint Online also enables the usage of rich text on messages, in addition to Yammer management actions like Close Conversation, Pin a conversation, Mark Best Answer to a Question, among other actions. Meanwhile, SharePoint users can also upload files and images into new Yammer conversations and replies.
As discussed previously, new Yammer brings more relevancy to the Home feed. This way, users can start conversations in any community. Users can also customize the new Yammer experience to view up to 12 conversations.
Getting started with new Yammer Conversations web parts
Existing SharePoint sites with Yammer Conversations web parts will automatically receive the Yammer experience. However, you can add Yammer Conversations to new sites. All you need to do is navigate to the web part gallery > Yammer Conversations > Get Started.
Yammer also happens to be the first Microsoft application to leverage the company's Fluent Design System to its full potential.