Bing search engine has certainly enhanced Bing image search results to make it user-friendly. The images are not only relevant; but also useful to the users in many ways. And Bing search engine is changing its face pretty faster. This time, Bing has brought yet another beneficial feature and made our shopping experience easier.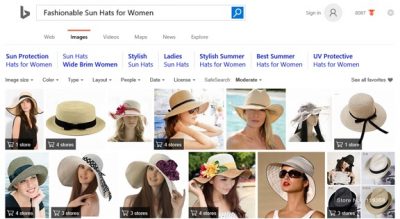 What does the new feature in Bing Image search do?
Bing loves to take feedback from the users regarding the search results and other aspects of Bing search engine. Based on that, Bing team realized that users are searching the images for more than just 'to look at'. Further, the team also concluded that two scenarios were the most common when people searched for images. The Bing image search was used for searching shopping items and recipes. Based on this conclusion, Bing image search results now come with a tag of shopping cart badges.
Bing team further explains new feature of shopping cart badges;
"The badges indicate that we've been able to locate relevant shopping pages offering given item for sale. When you click on the thumbnail and scroll down (or just click on a link embedded in the badge), you will see image details along with links to pages where the item can be bought, and with related products links if available."
How shopping cart badges were added to the images
Bing image search results that come with shopping cart badges have a detailed logical process behind it. The team mentions,
"In order to make it all work we had to start at the beginning—by understanding better the types of queries that would have high likelihood of shopping intent, and discerning where users would find the shopping-cart badge most useful. We studied query logs and engagement data to identify query patterns most frequently leading to purchases or visits to retail pages. We built corresponding machine-learned models to try to predict shopping intent for queries."
Adding the shopping badges or the recipe badges to the images in the search results is not a simple process as it looks like. It is a complex process, which Bing team is certain to implement successfully.
To know more about this process, read the blog on Bing Blogs.