Earlier in March Microsoft had announced the IT Pro and Developer Preview of Office 2016 for the Windows desktop. That expanded the program to  commercial Office 365 customers, which gave IT pros and developers an opportunity to test the upcoming release.
Now as a next step expanding the audience, ready to take feedback from broader audience, Microsoft is making Office 2016 Preview available to Office users everywhere.  This is in preparation for general availability in Fall 2015. The public previewers will not only get an early look of it but also they'll help to improve the future of Office by providing feedback.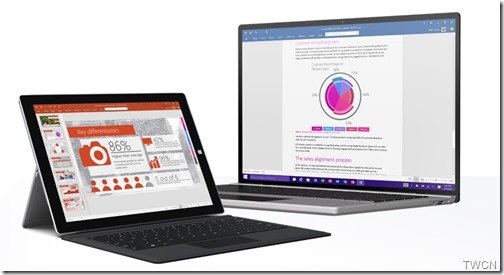 What's new in Office 2016
Access documents from anywhere on any device: Creating, opening, editing or saving files in the cloud from desktop has become easier across Office 2016 applications
Real-time co-authoring: Real-time co-authoring is available in the Office Online apps and the same experience comes to the Windows Desktop applications
Smart Applications : To get more out of Office, applications will learn as you work, taking advantage of subtle cues and clues to help you stay on task. Tell Me, a new search tool available in Word, PowerPoint, and Excel.
Data analysis made faster and easier
New analysis capabilities are built into Excel.
One-click forecasting
Intuitive data connecting and shaping capabilities
Easy data modeling and powerful analysis with improved Power Pivot features
Publish and share your Excel workbooks to users of Power BI
New modern charts and graphs
Compliance and security controls
Data Loss Protection (DLP) is now available in Word, Excel, and PowerPoint.
Multi-factor authentication now available in Outlook
Information Rights Management (IRM) protection is now extended to Visio files
Flexible deployment and management
New Background Intelligence Transfer Service (BITS) helps prevent congestion on the network
Efficiently download and distribute monthly Office updates due to improved integration with ConfigMgr
Flexible update management.
Activation management simplified
Announcing about Office 2016 Public Preview, the Office 365 Team posted
Over the last 12 months, we've transformed Office from a suite of desktop applications to a complete, cross-platform, cross-device solution for getting work done. We've expanded the Office footprint to iPad and Android tablets. We've upgraded Office experiences on the Mac, the iPhone and on the web.
Download the Office 2016 Preview now
You can get the Office 2016 Preview from these links
Office 365 subscribers : Go to the Office My Account page.
Other Office users : Now even if you don't have an Office 365 subscription, you can download a trial version of Office 2016
Use the product key provided below to activate your trial.
Product key for the Office 2016 Preview
NKGG6-WBPCC-HXWMY-6DQGJ-CPQVG
Download links
For more details on how downloads, please refer here.