Being a beginner in a new skill is hard and you can feel overwhelmed when you realize how much more you still have to learn. Having said that there are quintessential Office suite skills every working professional or Windows user should have. Office 2021 and Office 365 Quick Start Guides can help you get started.
Download Office 2021 and Office 365 Quick Start Guides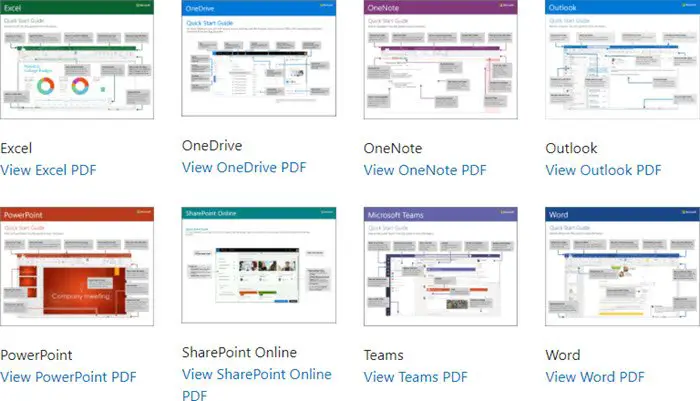 In this new Office 2021 and Office 365 Quick Start Guides, you'll find all the basic skills you need to stay productive and self-reliant in our information era.
1] Excel Quick Start Guide
Excel beginners can learn how to begin with a Blank workbook to get right to work or use already built-in templates and customize them to an extent that resembles what they need. Just select a relevant object in your workbook to make contextual commands available!
2] OneDrive Quick Start Guide
This guide covers OneDrive for work or school, but most of the functionality is the same for home subscribers. It talks about creating or uploading files and folders, syncing them, sharing files, and using its Files On-demand feature.
3] OneNote Quick Start Guide
This guide gives you a quick glance at some of the important tools in the app you can use to create new notebooks on your local hard drive, or store them on your free OneDrive account so your notes are always accessible on all your devices.
4] Outlook Quick Start Guide
If you are looking to set up an account and run Outlook as part of an eligible Office 365 subscription, you'll find this handbook pretty useful. It also talks about how to easily switch between Mail, Calendar, People, and more.
5] PowerPoint Quick Start Guide
The manual will help you explore various items in PowerPoint like the ribbon menu, Quick Access Toolbar, etc. It will also help you discover contextual commands, navigate and organize and share your work with others.
6] Microsoft Teams Quick Start Guide
Teams in Microsoft represent a collection of people, conversations, files, and tools—all in one place. Its guide talks about what's new in the app and how to get free training, tutorials, and videos.
7] SharePoint Online Quick Start Guide
You can do a lot more when you have safe and secure file storage access. Just sign in to your Office 365 subscription and select SharePoint from the App launcher. Its quick start guide will help you set things up.
8] Word Quick Start Guide
Whether you work with files stored on your PC's local hard drive or you roam across various cloud services, Word Quick Start Guide can help you access all your recently used documents and any files that you may have pinned to your list
You can download Quick Start Guides for Excel, OneDrive, OneNote, Outlook, PowerPoint, SharePoint, Teams, Yammer, and Word 2021 here from Microsoft.