Microsoft had earlier, announced its strategic partnership with Dropbox for Office integration. This partnership will help integrate services for collaboration across Dropbox and Microsoft Office on phones, tablets and the Web. With the latest updates for the Office Mobile app for Android phones, this Dropbox support has been added along with other features making it easier to access, edit and share online Office files from your Android phones.
Office mobile for Android app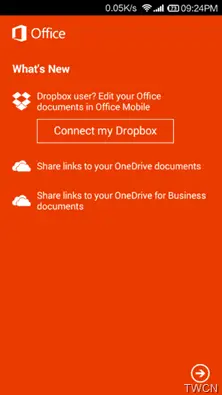 Share links of OneDrive documents right from Office Mobile
This release of Office mobile has added the ability to generate and share links to OneDrive , OneDrive for Business documents right within the app.
How do you get these sharing links?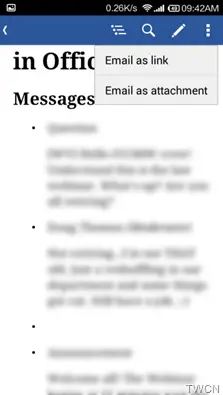 To get these sharing links, open the OneDrive office document from OneDrive or OneDrive for Business, then as it opens in Office mobile, just tap on the context menu > Share. Here we get the sharing links – Email as link which will further provide options to 'view &edit' or 'view only' and the Share via option in email as attachment.
Dropbox support
The team has already shipped updated apps on iOS to enable a seamless connection between Dropbox and Office for easy access, editing and sharing—right from Word, PowerPoint and Excel apps. And now with this update you'll get the same integration in Office Mobile for Android phones. So what features this integration provides?
Dropbox as online storage location.
Files on Dropbox can be browsed from your Office Mobile app
Edit your Dropbox files using office mobile app and automatically save them back to Dropbox.
Share your files, right from Office Mobile.
How to connect your Dropbox for these features?
Opening the app for the first time after the update will provide the option once as opening screen 'Connect my Dropbox'. (as shown in top most pic). If you have missed that, just open Office mobile, tap on 'Open' (the middle icon) and tap on 'Add a place' to get various options including Dropbox.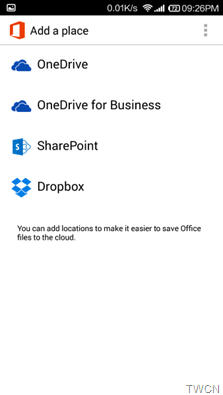 The Office 365 team announced about these Office mobile for Android updates with OneDrive sharing and Dropbox support.
If you haven't updated yet, one can download the latest updates for free from the Google Play Store. You also might be knowing that the Office mobile as of now is available only for Android Smartphones and not for Android tablets – but it will be soon made available on Android tablets too as Microsoft has already opened it to public for beta testing on Android Tablets.