Bing, the Microsoft search engine warns us that the official VLC Player site is suspicious. Bing suggests choosing another result and also offers a link to the 'Bing Site Safety Report' wherein you can check the details.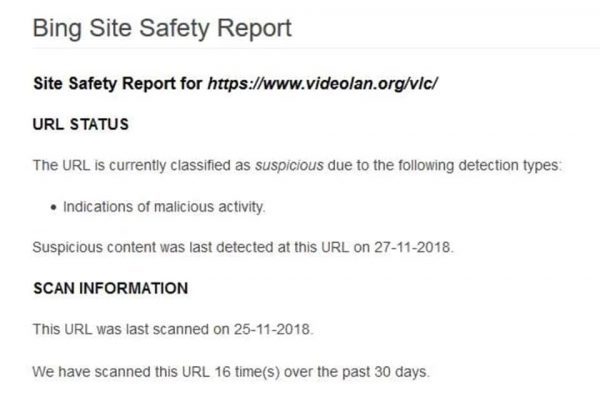 VLC web page indicates malicious activity, says Bing
The report also says that the download buttons in Videolan, the official website of VLC Player takes you to the legitimate but outdated VLC 2.1.0 page which is vulnerable to DLL Hijacking. The outdated page and the malicious InPage document can give attackers the backdoor access to your device and data.
As per the Bing Site Safety Report, https://www.videolan.org/vlc/, the page is malicious, and the suspicious content was last detected on 25-11-18. Bing has scanned the official VLP Page for over 16 times in last 30 days, and the last scan was done on 25-11-2018 when the threat was detected.
While Microsoft has already confirmed the Bing results, Videolan, the official website is still confused about the bug and its fix. Videolan is aware of the flag raised by Bing and have no clue about how to fix it.
There was a tweet recently posted from the official handle of Videolan says,
"Supposedly, @bing now consider vlc-3.0.4-win64.exe as a malware, which gives an annoying popup. This appeared 2 days ago, and we have no clue how to fix it (yet). We've checked, and the binary has not changed and is still correctly signed".
VLC is one of the most popularly used media players, and so we hope that this issue is clarified soonest.
UPDATE: If you check now, youwill find that site is not being flagged as suspicious. The URL Status now states – This URL is not currently classified as suspicious.
Via.