The OneDrive team keeps improving its app, providing new features. Just yesterday we saw an important milestone for OneDrive as it provided unlimited OneDrive cloud storage for all Office 365 subscribers at no extra cost. Thus users will never have to think of running out of space. And today the OneDrive team is rolling out new versions of OneDrive Windows Phone and Android apps. The Windows Phone app gets a new UI while Android app gets Recycle Bin support. Let us check details and other new features.
OneDrive for Windows Phone updates
Windows Phone OneDrive app UI has been redesigned making it easier to find and open files and folders that one is looking for.
Quick access to recent and shared files with the new navigation drawer.
check the download and upload status
Direct access to OneDrive for Business account thus one can Sign in with both personal OneDrive and OneDrive for Business accounts
Organize, open, save new files, send OneDrive for Business files.
Bug fixes and performance improvements.
Check your Windows phone for the latest app ver or can check it in the Windows Phone stores.
OneDrive for Android updates
Apart from Windows Phone app, the OneDrive app for Android too gets some updates providing more control over ones files and folders.
Can access your OneDrive recycle bin so as to find , restore ones deleted files right from the app itself.
Support for widgets, one can pin folders directly to Home screen for easy access. This has been a very popular feature on Windows Phone and now it comes to Android too.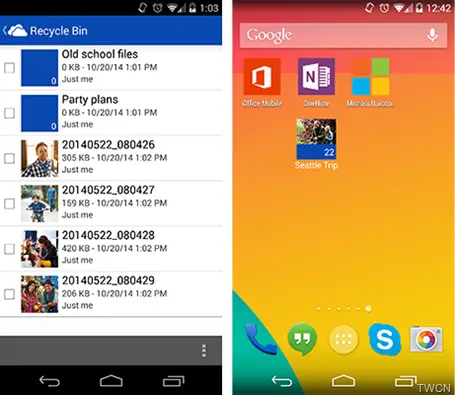 The Recycle Bin option can be seen here: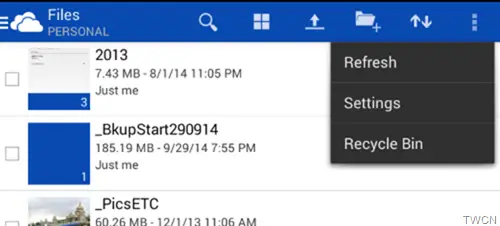 Check your Android devices or Google Play store for the latest update. This latest Android ver is 2.9.0.
Posting this Omar Shahine, Group Program Manager, OneDrive said: These are just a few highlights from this month's release…New updates are always in the works!