Earlier, OneDrive added the Dark mode support to Android across both business and personal accounts. Now, Microsoft is soon bringing Dark mode support to the web version of OneDrive. This update will be available to OneDrive's personal and business accounts. Additionally, Microsoft has also announced a series of new OneDrive features.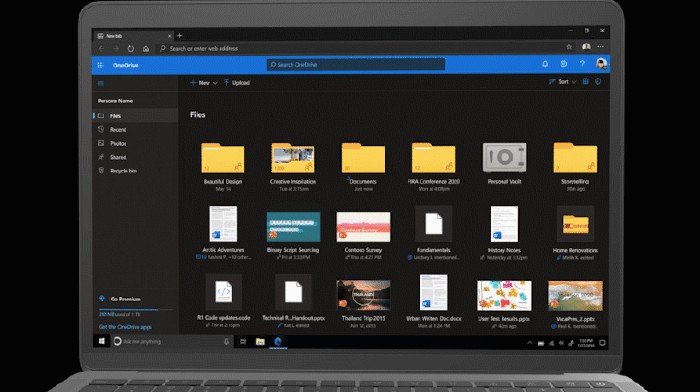 Dark mode reaching OneDrive for Web
In his recent blog post, Seth Patton, General Manager of Microsoft 365, wrote:
"We're soon bringing Dark Mode to OneDrive for the web across commercial and personal accounts. Aside from its aesthetic appeal, Dark Mode also reduces eye strain and improves your device's battery life."
Microsoft has announced some new OneDrive features across Microsoft 365. Thanks to these features, the company hopes to bring changes to file-sharing experience to business users, more control to admins, and more.
Add to OneDrive launching soon
Folks at OneDrive are rolling out the public preview of a new feature called Add to OneDrive later this month. This feature will allow users to add shared folders directly to their OneDrive. These folders consist of content that others share with you through their OneDrive, in addition to content that is a part of your shared library in Teams or SharePoint.
What is Add to OneDrie, you ask? This feature will bring all your shared content into one place. Plus, you can also work with the shared content similar to the way you work with files that you own. Hence, the shared content can be also synced, shared, and collaborated on.
"The public preview rollout will be enabled in your tenants by default with the option for admins to opt out if they choose."
Microsoft is working to add several other OneDrive features, as follows:
Teams sharing integration: Microsoft is soon rolling out OneDrive's file sharing and access control experience in Teams. In the next few weeks, Microsoft is rolling out an update to the OneDrive sync app extended synced metadata support for shared libraries.
Soon, OneDrive business users with original access to a file will be re-added to it if that file moves through its lifecycle. Microsoft has also increased the upload file size limit from 15 GB to 100 GB in OneDrive and SharePoint for everyone.
The remaining list of the upcoming OneDrive for Web features includes Comment notifications, address bar sharing, sync admin reports, enhanced file protection and governance, streamlined admin experience, and family and group sharing.