Microsoft is currently in the process of rolling out several new features to Microsoft OneDrive personal cloud storage service. The company has revealed the product roadmap of some of the new features coming soon to Microsoft OneDrive. The majority of these features have been in development for quite some time now.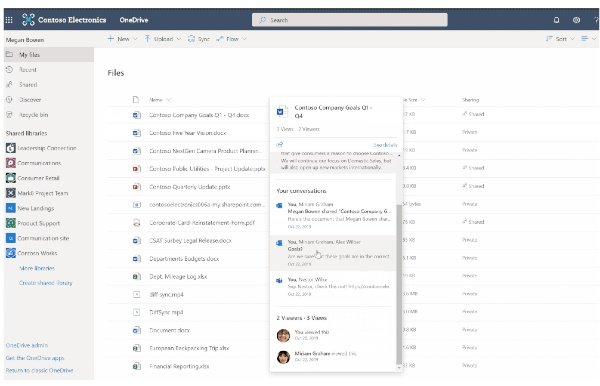 Microsoft OneDrive rolling out new features
In its recent blog post, Microsoft has compiled the list of some of the new and upcoming OneDrive features rolling out to users:
"We hope all of you are taking care of yourselves and staying safe. The OneDrive team is hard at work to maintain service uptake as well as roll out features to provide quality product performance and experience."
The list consists of multiple Microsoft OneDrive features, as follows:
Conversations on the File Card
Smart upload management
Dark Mode on Android
PDFs and scans included in "Recent View".
We are going to talk about all these features in detail.
1. File hover card – conversations
It allows users to see a set of information about your files at a glance whenever you hover over a file in Microsoft OneDrive and SharePoint. Microsoft has started rolling out an additional update to the file card: Conversations. If you hover files shared in an email, meeting invitations, or private Teams chats, you will be able to see those conversations in the file card and trace its origin.
2. Smart upload management
Users with Windows 10 or Windows Server 2016 or later can make use of Microsoft OneDrive Smart upload management to automatically adjust sync client upload rates, depending on the availability of bandwidth. It also allows users to sync the OneDrive client to upload data in the background and consume unused bandwidth, without having to interfere with the rest of the applications on the network.
3. Dark mode for Android
Microsoft OneDrive continues to expand the availability of Dark mode to Android users worldwide. Last month, Microsoft announced its plans to extend the Fluent design update to Microsoft OneDrive for Android. The dark mode works on Android across both business and personal accounts. It reduces eye strain and helps users improve the battery life of the device.
4. PDFs and scans included in "Recent View"
The fluent design update for the Android app also consists of a new feature: Recent View. This way, recently uploaded scans and viewed PDFs will automatically show up at the top in the 'Recent list.'