Earlier, in the last month we had seen that with updates to Android OneDrive app, OneDrive got more secure, with an option to set up a PIN. You have to enter a 4 digit code thus limiting the access to your app and files. If one wants to open the OneDrive app, one has to enter the 4 digit code. When providing this feature ,at that time it was mentioned that it was exclusive to Android version and this feature will soon be seen on iOS and Windows Phones.
Now Microsoft has updated the OneDrive app for iOS and added new features based on users' requests taking advantage of new technologies in iOS 8.
PIN code and Touch ID support:  Microsoft has added the ability to require a PIN code to access the OneDrive app. So this will prevent other people using your device to accidentally change content in OneDrive. Not only this, Microsoft has also added ability to use fingerprint to sign in to app. So one has to verify fingerprint to access OneDrive. This was built on using the brand new Touch ID API in iOS 8.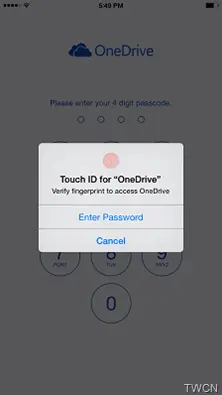 Better utilization of screen space : Microsoft adjusted the OneDrive app to make use of the extra screen real estate on the iPhone 6 and 6 Plus. Thus making the user more productive as one can manage his files much easier. One can see more files and folders on screen and also have more space in editing documents.
Added ability to sort your files on your iPhone or iPad.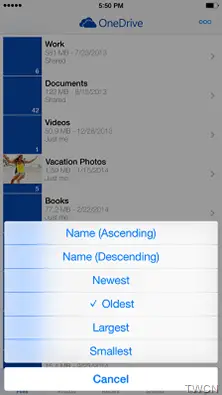 So with OneDrive iOS app updated with touch ID, PIN code support and other features, update your app to get these nice features.
Please note these are supported on iPhones, iPads, iPods running the iOS 8. Also if you haven't turned ON your Camera backup, do it now to get extra One Drive Storage.