Microsoft is rolling out a significant update for OneNote that will enhance Clipper to Clipper v 2.0. The new update will make it easier for users to capture content on the web and place them within OneNote for future references.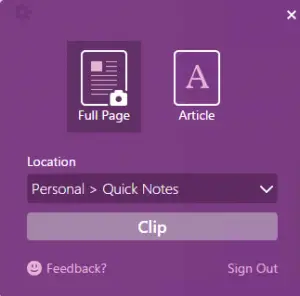 According to Microsoft, the company has added a redesigned user interface, region clipping for the Google Chrome Web Browser, intelligence and a location picker. These are features fans have been looking out for, and now they are here.
We gave the new OneNote Clipper a test run to see if it is worth your time. Our impression so far is basically yes, it is wonderful says Microsoft.
The new UI: The redesigned user interface looks great with that purple tint. The most important aspect of this new UI is the little space it takes up on the screen. This is especially useful for those on tablets or laptops with small screens. It also comes with new animations, but this is just eye candy and not needed.
Region Clipping: For some odd reason, Region Clipping is only available in the Chrome Extension version of OneNote. Since this is a Microsoft product, one has to wonder why the company chose not to bring this feature to Internet Explorer. We have come to realize that the software giant sometimes tends to other platforms more than its own, and it is becoming quite frustrating.
Location Picker: Location Picker is the best addition to OneNote Clipper in a long time. It allows the user to save captured web pages or images to any location they choose. Previously, captured content could have only been saved to the default Quick Notes location. We're glad Microsoft made this necessary change, and now the company needs to bring Region Clipping to its own platform.
We hope to see a lot more updates for OneNote in the coming months despite all the great features, it still lags behind Evernote.