Despite innovations and added new features, users complained Opera lacked many UI features that restrained them from choosing Opera in the first place. However, the Norwegian browser developer claims to have worked upon such odds only to make the browser more acceptable. Yes, Opera 16 was released today.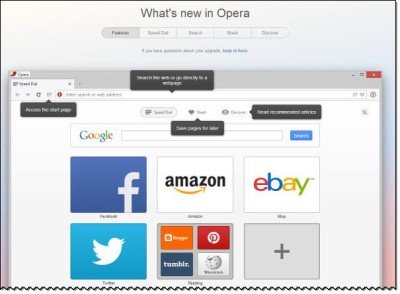 Opera 16 released – New features
This morning, we've spun out Opera 16 stable from our Opera Next stream. Some of the bigger changes include advanced settings in opera:flags, auto-fill support for forms, Geolocation support, start page options (e.g. you can disable Discover content preloading), and an engine update to Chromium 29 (Opera 15 was on Chromium 28)", reported Andreas Bovens, Dev Relations + Extensions Product Manager at Opera Software.
Opera 16 is based on Chromium 29 engine (to be used for Google Chrome 29, currently in beta). It dumped its own proprietary Presto web engine in favor of Blink engine used by Google Chrome if you remember, months ago. Now, the engine comes with
Support for the W3C Geolocation API,
Opera:flags, a shortcut to settings
A form auto-filler tool
So, there are improvements in functionality with Opera 16. The above highlighted features find a mention in the 'What's New' section of the browser. Besides, more extension templates and samples too have been added to Opera 16.  These changes and other significant changes also include support for presentation mode on Mac, improved stability and improved performance.
Source: Opera Developer News Blog.