As per reportsdated March 2014, Opera is the 4th most popular web browser in the world. Recently Opera 22 was launched for Mac and Windows. The makers of Opera browser say that Opera 22 is,
"A safe and highly compatible browser that gives you one of the best experiences of the web. Not only is Opera fast and powerful, it's also beautiful."
Those who are using previous versions of Opera will receive the update of Opera 22 automatically.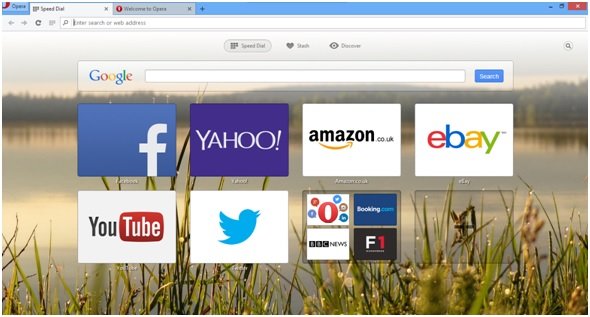 Opera 22 new features
First of all, it's the interface of the browser that has been made attractive and easy-to-use in Opera 22. The browser has been made to look modern and slick that easily blends with its surroundings. Taking the advantage of Opera's birth place, i.e. Norway, Opera 22 dons 5 themes that are inspired by local sceneries. Opera 22's five themes include:
1)      At the Norwegian Sea
2)      Fjord
3)      Lofoten Islands
4)      Midsummer in Lapland (visible in the image)
5)      Mountains
Users can switch between these five new themes by selecting Opera Menu → Themes on Windows or View → Show Themes on Mac. In addition to these 5 themes, users can select 'Grey' theme where the background becomes grey.  Users can even create their own themes by selecting their favorite images.
If you want a much larger collection of themes for Opera 22, then you can visit the themes section of the Opera add-ons site by clicking on 'Get more themes' tab. Making an online image as browser theme is also easy. Simply right – click on the image and select 'Use Image as Theme'. And the image will serve as your Opera 22 browser theme.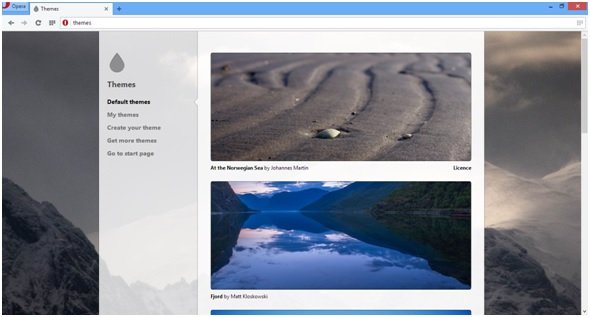 There are even more changes made to Opera 22. The makers of the browser say about these features that,
"With Opera 22, we have introduced a new silent-update mechanism on Opera for Windows. This update will be the very last time you seen that irritating authentication dialog while surfing the net. From now on, you can browse away without distraction, and feel safe knowing Opera is always up to date and secure."
The major changes made in Opera 22 are:
1)      Five Default themes
2)      Silent updates for Windows (this will be the final release that displays the update dialogue)
3)      Smaller updates to conserve your bandwidth
4)      Updated Chromium to 35.0.1916.114.
The complete list of other changes made in Opera 22 can be viewed in the change log.