The new version of Opera – Opera 29 has been released for Windows. The latest version brings significant improvements including added support for more mouse gestures, the addition of a History button to the Speed Dial and other start pages, etc. Individuals preferring to browse across a range of gadgets with the ability to sync tabs between mobile and desktop platforms can now do the needful.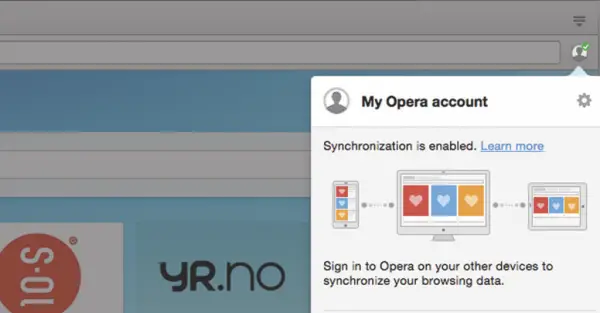 Opera 29 tab synchronization
Opera 29 has added tab functionality to both, the Desktop and mobile versions of the software. The added functionality enables a user continue his Web browsing sessions from one device to another, provided he has an Opera account created. The account immediately grants access to the tabs opened on other devices where the individual is logged in with the same Opera account. Speed Dial entries can also be synced.
Apart from the tab syncing feature, the update also includes some useful minor tweaks and support for customizable keyboard shortcuts. New audio indicator and centered standalone images are among the few changes introduced.
With the release of Opera 29 today, we bring you tab synchronization, which works both in Opera 29 for computers and the latest version of Opera for Android," says Zhenis, Opera Software's Product Manager of Desktop Products.
Opera for Android was popular since it offered an Off-Road mode that compressed websites to help users use less data. Selecting Off-Road mode on Android would compress and render the webpage on the Mini servers, following which it would be sent to the browser. This saved some MBs of data to a user however, in certain cases, there were site-compatibility issues due to architectural limitations and the resulting lack of complex JavaScript support.
New mode in Opera Turbo, overrides this problem as it compresses (non-HTTPS) page content as much as possible on Opera Turbo servers but still renders the page on your phone. Opera FINAL 29 is available now as a freeware download for Windows.