Opera 50 will come with a useful Anti-Cryptocurrency Mining feature named NoCoin. The feature, as the name suggests prevents Cryptojacking. While the latest build Opera 50 comes with some other good features like extended VR360 support for Chromecast and Oculus too, NoCoin is the most talked about feature currently.
NoCoin Anti-Cryptocurrency Mining feature in Opera
Cryptocurrency mining is on rising and the NoCoin feature of Opera 50 can help you stay safe. More like an integrated ad blocker, NoCoin blocks the pages containing embedded cryptocurrency mining scripts.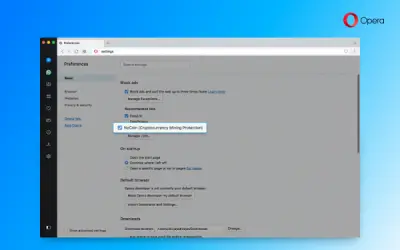 Cryptocurrency mining can start from your very first visit to a web page running the script, but Opera 50 brings the built-in solution to keep the miners away from your computer system. Not everyone knows but when anyone trespasses your machine to mine for the cryptocurrency, the CPU works at its 100% capacity and your PC becomes actually hotter.
Opera 50 can dramatically reduce the CPU usage by enabling NoCoin, the anti-cryptocurrency mining feature. This not just leverage the mining scripts but also helps in increasing the battery life of your laptops.
Kornelia Mielczarzyk from Opera said in a blog post, that they updated their rules to eliminate cryptocurrency mining scripts that overuse your device's computing ability. This will prevent cryptocurrency mining sites from doing their dirty work on your computer.
Opera 50 currently is available as a Beta version. If you are not interested in the Beta version, you can wait for the Stable version which is soon to be made available. However, the Beta version is an RC (Release Candidate) and said to be bug-free and safe.