Opera Software surprised its users by announcing a major update to its much criticised Windows Phone app – Opera Mini. The new update brings a major overhaul in the design and aesthetic aspects of the app. The look and feel of the app has been significantly enhanced when compared to previous version of the app ( which was due for an update for more than an year ). Even though the app looks perfectly polished, Opera has still not removed the beta tag from the application name.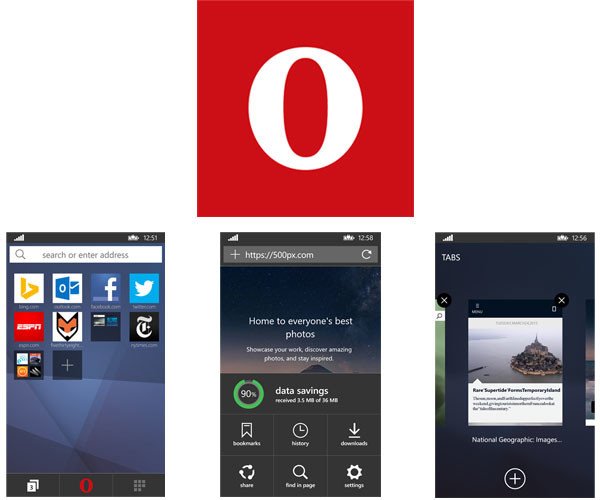 What's new with Opera Mini Beta for Windows Phone
Great Design: As mentioned earlier, the design is the first thing which anyone notices.The interface looks more crispy, clearer and readable than its predecessor. The app now makes use of the full real estate of the screen, the search/address bar is more accessible, speed dial is well organized and very much clickable.
Navigation: The controls to use the application is well thought out and simplified. The three prominent buttons at the bottom of the screen helps to switch between tabs and speed dialer while the red Opera button when expanded carries important browser options like bookmarks, browsing and download history, settings etc.
Tabs: Just like how we switch between apps on Windows Phone, the same user experience has been replicated while switching between tabs in Opera Mini Windows Phone browser.
Saves Data: Opera Mini is historically known for its unique offering of compressing webpages which helps in saving data. Just like how Windows Phone's in-built Data Sense signals the data consumed, Opera Mini too shows the data compression information while using the app.
A variety of options are available under settings, which aids greater customization options to the user.
The updated version of Opera Mini Beta can be downloaded from Windows Phone store here.