After calling the Surface one of her favorite items, Oprah Winfrey took to Twitter to confess about her love for Microsoft Surface. Here is what she tweeted: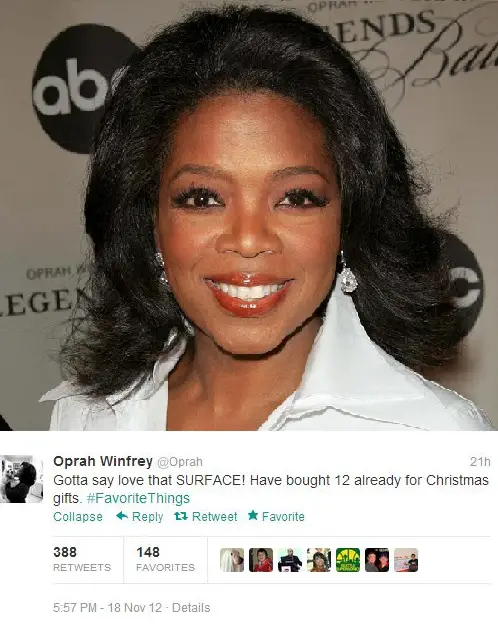 Since Oprah had already praised the Surface earlier, there might be nothing new in here. But wait! Surprisingly, Oprah used an iPad to tell her 14.8 million followers about how much she loves the Surface. Ironical!
This can be one of the biggest and most influential word of mouth in favor of Surface, Microsoft's own tablet device and has the ability to affect the purchasing decisions of millions of people all around. This is good news for Microsoft and bad news for the eternal whiners who leave no stone unturned in projecting Microsoft Surface as a failed competitor in front of the iPad.
Oprah had earlier listed Surface on her Favorite Things of 2012 list and had said the following, "The Surface, Microsoft's first tablet, feels like a Mercedes-Benz to me, people! The full-size keyboard built right into the cover makes work easy, the very smart kickstand makes watching a movie or Skyping a friend a delight, the less than a pound-and-a-half weight makes a great alternative to a laptop, and the many other features make it fun for work and play. Now, that's a wowser!"
Really! The Surface is indeed a wowser!