The Outlook team announced today that the preview label from Outlook app for Android has been removed. The app is out of preview and  is available in all markets supported by the Google Play Store. The Outlook user interface is translated in 30 languages.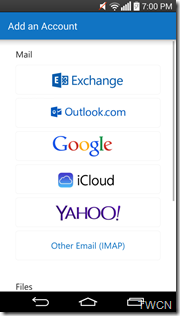 Outlook app for Android
Outlook for iOS and a preview version of Outlook for Android was released in January. The Outlook team set a high bar for releasing the Outlook for Android before removing the preview label. As the iOS version of Outlook at that time was ahead of Android in performance and features, the Outlook team had to meet their own expectations apart from the feedback of users on which many of the features were based.
The Outlook team worked hard to meet this high standards, updated Outlook for Android 17 times since the Preview was released – and this comes to more than one update per week.
The major part of this work included:
Improvements in performance and stability

Localization, accessibility

Adding more features

Match the iOS version

Acting on users feedback.
Main features:
Some of the main features added in these months are:
Improved look and feel

IMAP support

improved People section

Directory Search

Calendar's 3-day view and many more new Calendar features

Customized swipe gestures

Choose default folders

Empty trash
What's next for Outlook app for Android
Outlook app is an example of Office's new development model for building mobile apps. The removal of Preview tag does not mean that development is over – it is not the end, but it's the start. The Outlook team will keep the app updated to make it better, to provide new features regularly.
Announcing this the Outlook team requested its users to share their feedback with them so that they can look into it and provide timely updates based on users requests. One can share the feedback right from Outlook by going to Settings > Help > Contact Support.
Get it from the Google Play Stores. It requires Android 4.0 and above.