It was just last summer that Microsoft released a Preview of Outlook.com, a new email service, that provided a great upgrade to Hotmail users. Outlook.com is now out of Preview – and boasts a user base of over 60 million, making it the fastest growing email service in the world!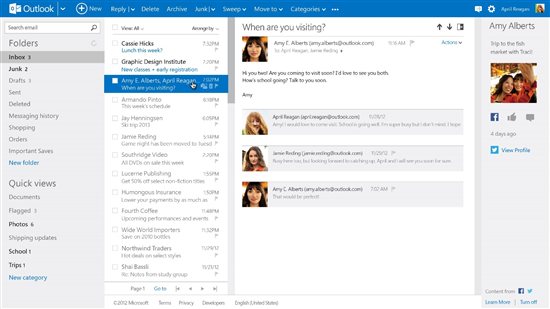 Users of Outlook.com are a satisfied lot. Millions have connected their Outlook.com account to Facebook, Twitter and LinkedIn to keep up-to-date on their friends' contact info, updates, photos, and Tweets.
What it means for Hotmail users
Every Hotmail user will soon be upgraded to Outlook.com. And it'll be seamless and instant.
Everything from their @hotmail.com email address, password, messages, folders, contacts, rules, vacation replies, etc. will stay the same, with no disruption in service.
And not only that after upgrade they will get all the benefits of the redesigned Outlook.com experience, a fresh and intuitive user interface, lots of new features and better performance. And they don't have to switch their email address to an @outlook.com address if they don't want to. So a Hotmail user will continue to use his old @hotmail.com address but will get all the benefits of the modern Outlook.com. And all Hotmail users will be upgraded by this Summer. And one doesn't have worry about the upgrade, just sign in to Outlook.com and rest will be taken care of.
Modern email
During the preview lots of feedback were received and the Outlook.com team has made many improvements. Since its launch some 6 months back, Outlook.com has become the world's fastest growing email service going from 0 to 60 million in just 6 months. Outlook.com is a bold step forward to build a brand new email service from the ground up–all the way from the data center to the user experience and everything in between.
Delivering a beautiful, fresh and intuitive experience on modern browsers and devices
Keeping people connected to their friends and co-workers across the networks they really use
Providing a smart and powerful inbox to handle today's email needs, including SkyDrive for sharing virtually anything in a single email
Putting people in control by prioritizing their privacy
"Our goal was to learn from feedback, fine-tune the experience and ensure we could scale Outlook.com appropriately to deliver on our vision of a new modern email for a billion inboxes. "
People have also appreciated the fact that you see over 60% less advertisements on Outlook.com since it  replaces advertising with the latest updates from Facebook or Twitter when they're reading email from one of their contacts.
Outlook.com was also designed to make it easy to send hundreds of photos, videos and just about everything people want in a single message-all powered by SkyDrive, says Microsoft.
The automatic upgradation of Hotmail to Outlook has already started. Microsoft plans to upgrade all the people still using Hotmail to be upgraded by this summer. If you haven't already upgraded your Hotmail to Outlook, now might be a good time to do so.
http://youtu.be/57Xk4kbm0cs