For the purpose of social and political content filtering on the internet, Pakistan is implementing Netsweeper. The citizen Lab internet research group, based at the Munk, at the University of Toronto has reveled that Canada based Netsweeper internet filtering products have been installed at the national level in Pakistan. Though such instances are becoming rare as Western companies have come under fire for supplying censorship tools to repressive governments
Pakistan's filtering Social and Political content includes websites  of sensitive religious topics, secessionist and even media.
Pakistan ISPs also using other less transparent method to block content such as DNS tampering. It seems YouTube ban still continues in Pakistan. YouTube was banned in Pakistan in Sep. 2012 . Recently the Google was engaged in progressive talks to lift the ban.
Due to blasphemous content being circulated on major sites like Facebook, Twitter, and YouTube, Pakistani authorities have on different occasions blocked the entire domains of these sites as opposed to just the offending content. While the blocking of Twitter and Facebook was rescinded after periods of filtering, YouTube continues to be blocked.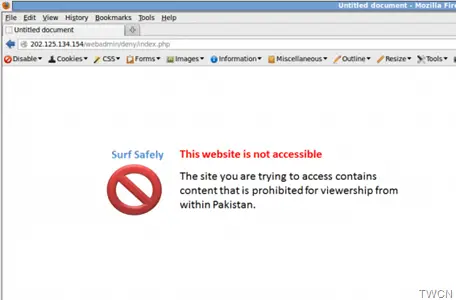 The report released by internet research group The Citizen Lab summarizes the key findings –
Netsweeper filtering products have been installed on Pakistan Telecommunication Company Limited (PTCL)'s network. PTCL is Pakistan's largest telecommunications company and also operates the Pakistan Internet Exchange Point.
Netsweeper technology is being implemented in Pakistan on PTCL for the purposes of political and social filtering, including websites relating to  human rights, sensitive religious topics, and independent media.
In addition to using Netsweeper technology to block websites, ISPs also use other less transparent methods, such as DNS tampering.
PDF version of the report can be downloaded from here.