Panasonic has introduced two new products from its product range of ruggedized mobile computing to the Indian market. These are a part of the Toughbook range from Panasonic. The company has  launched the world's first ruggedized tablet, Toughpad FZ-A1 and the Panasonic CF-AX2, the world's the World's Lightest Business Rugged Convertible Windows 8 Pro Ultrabook.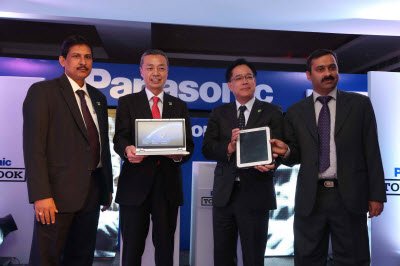 Panasonic Ultrabook CF-AX2
The Panasonic Ultrabook CF-AX2 has a unique Flip-Over design, making it ideal for mobile sales workforce, merchandisers and executives to use in notebook or tablet mode. Combining high  usability, style, durability and long battery life with hot swappable, replaceable battery, the CF-AX2 is one of the first ready-made Microsoft Windows 8 Pro certified devices. This means business users can have the best of both worlds, using the Toughbook CF-AX2 as both a versatile touch-screen tablet and state-of–the-art, stylish Ultrabook.
Panasonic Toughpad FZ-A1
Panasonic Toughpad FZ-A1 is a purpose-built Android-powered tablet, designed with enterprise-class security, long product life, and advanced device management in mind. The Toughpad FZ-A1 will allow healthcare services, pharmaceutical and construction companies as well as aviation and military sectors to realize the true potential of tablet computing without sacrificing security while delivering a high return on investment.
Panasonic Ultrabook and ToughPad Price
Panasonic Toughpad™ is priced at INR 75000 and is already available in the India market.
Panasonic Ultrabook™ is priced at INR 1.3 Lac and will be available in India from February 2013.