Pinterest has announced the launch of the 'Today' tab, which will help users discover curated topics and content pins in the wake of the coronavirus COVID-19 outbreak. Pinterest's Today tab will feature expert information from the World Health Organization (WHO) and the Centers for Disease Control (CDC) about the importance of ensuring personal hygiene, washing hands, and social distancing during the coronavirus pandemic.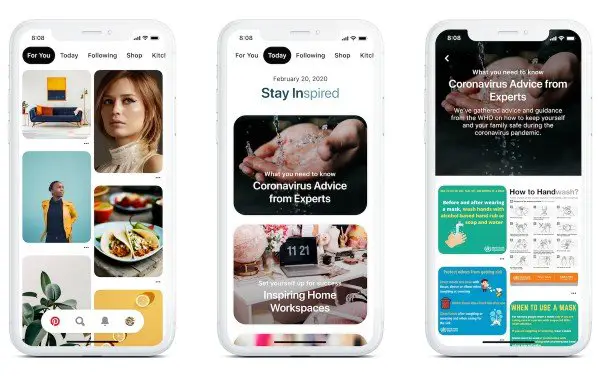 Pinterest launches 'Today' tab
The company promises to show more inspirational, and educational content in trending categories.
"There's no question life feels different these days. The spread of COVID-19 is disrupting lives around the world, but it's been heartening to see people willing and eager to do their part to fight this virus by staying home."
The 'Today' tab is available at the top of Pinterest's home feed for Android and iOS users. The company will curate content by the in-house team. In the future, Pinterest will work with guest editors to handle the 'Today' tab.
How exactly is the home feed different from the Today tab, you ask? While users continue to see personalized recommendations in the home feed, the Today tab will show popular ideas based on trending topics and searches.
For now, Pinterest's Today tab is limited to users in the U.S. and the U.K. However, the company will soon roll it out to more countries.
COVID-19 impact
During the coronavirus outbreak, Pinterest continues to witness a surge in terms of the number of users spending time on its platform. As more people stay home, there will be a massive, significant boost in consumption of these online apps and services.
Last weekend, Pinterest observed record traffic from all across the globe. Pinterest also saw more saves and searches on the platform than any other weekend like never before. In the U.S. alone, Pinterest witnessed a 34 percent increase in conversations through its Send a Pin feature.
The company also witnessed highest-ever user engagement from countries like Italy, France, Spain, and Germany. In France alone, saves see nearly 30 percent increase than last month.
Over the past two weeks, Pinterest has recorded a 155 percent boost in terms of searches like "freezer means" in the U.S. Meanwhile, searches for "working from home" and "indoor activities with kids" are up 170 percent and 1,300 percent, respectively.