Pinterest wants more retailers to stick to its platform. The photo-sharing and publishing website has come up with a new initiative for retailers: Verified Merchant Program. It could be part of Pinterest's ongoing efforts to provide users with the shopping experience and making the platform ready for e-commerce opportunities.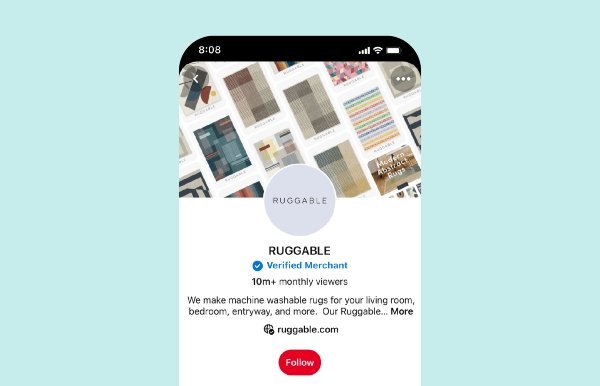 Pinterest launches Verified Merchant Program
Pinterest's Verified Merchant Program will help retailers increase their brand presence and get discovered among customers interested in purchasing their products and services. In a recent blog post, Pinterest wrote:
"As we continue to invest in shopping and the success of retailers, we're introducing new features to help retailers of all sizes get discovered, and distribute their products in the spaces where Pinners are most likely to shop, including the launch of the Verified Merchant Program, new conversion reporting opportunities, and updates to Catalogs and dynamic retargeting."
Under this program, verified merchants will receive a blue checkmark on their profiles. Pinterest has launched the program starting with select retailers like Ruggable, Filson, Quay Australia, among others.
The eligibility criteria comprise high-quality customer service experiences, courtesy of manual review. Pinterest's Verified Merchant Program should help eligible merchants enhance their reach, presence, and the overall shopping experience.
It will help verified brands and retailers stand out from their competition. Furthermore, Pinterest says 97 percent of the top searches on its website are non-branded whereas 83 percent of Pinners have made a purchase based on content from brands on Pinterest.
In addition to a verified blue checkmark, Pinterest provides verified merchants with access to its brand-new conversion insights tool, which allows brands to estimate the overall sales performance of paid and organic Pins.
Pinterest shows a dedicated shop tab on verified merchant profiles, making it easier for potential customers to discover products in one place. Products from verified merchants also show up in related products.
In addition to the Verified Merchants Program, Pinterest is rolling out new tools and features such as conversion Insights, catalogs updates, and dynamic retargeting.
Earlier this week, Pinterest announced the new 'Today" tab to feature curated content related to the ongoing coronavirus COVID-19 outbreak.