Random errors on Windows operating system are not something new and now a strange error in has cropped up. This error fires up the CMD and is affecting quite a lot of users. The issue is limited to Windows 7 only.
This is what the error message says:
KB3172605 and/or KB3161608 are installed in your system. Please uninstall KB3172605 and/or KB3161608 before installing this driver.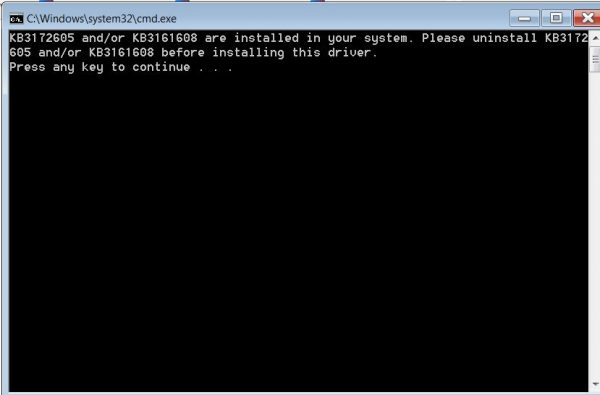 Most of the users are suspecting this to be a virus or a botched up update but that is not the case.
A user has posted the issue on Microsoft Forum and this has triggered a thread of discussion. Going by the comments it's apparent that the error mostly appears for the Lenovo computer users and it might be affecting certain models in particular. The message is pointing towards a driver that's being attempted to install without any indication on the device manager.
Delving further into the comments I spotted a user who seems to have deduced the reason for this to happen. As per his deduction, a scheduled task on the machine was causing this problem and apparently the cause for this is the latest Lenovo System update. There is a scheduled task named "tvsuupdatetask" executing "C:\program files (x86)\Lenovo\System Update\tvsuShim.exe." The error now seems to be caused from the Lenovo end and the scheduled task is executed automatically.
The user explained how the scheduled task runs at 10:53 AM every time and whenever its run the error simply pops up.
In order to fix this error, users may uninstall KB3172605 and KB3161608 and thus by doing this your Lenovo will automatically attempt to install the latest drivers. One could then manually download the updates from Microsoft Update Catalog and install the same.