The popular solitaire game from Windows desktop operating system has arrived on Windows Phone store. Solitaire is a collection of several card-centric games that have made their way to the mobile ecosystem. These games include Klondike, FreeCell, Spider, TriPeaks and Pyramid.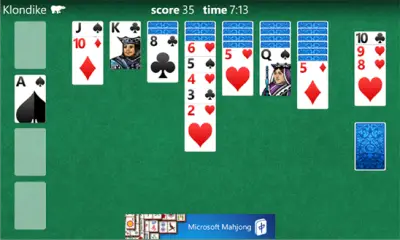 Playing these games may left you with a nostalgia of those good old days. Being a part of desktop operating system for over 20 years, these games remain the most popular computer game of all time. It is very less likely to find a person who hadn't tried their hands on any of these games.
The gameplay of all these card games is quite easy, as well. All you have to is either make sure that you are clearing the cards out of the table, or/and making maximum points against your friends.
While Klondike (or just call it Solitaire) requires plain removal of all cards from the table, Free Cell adds 4-cells and makes the game more strategic. TriPeaks just requires you to select cards in sequence, if the card is up, you win, else you lose.
Gone are those days when Windows Phone was considered as a platform that lacked games, we are witnessing a slew range of apps and games arriving on the Store every other day.
In less than 3 days since its arrival, the game has managed to produce quite a buzz, receiving great reviews from all over the places. You can download this game from here. The app is exclusively freely available for Windows Phone 8 users, and requires over 40 MB of disk space in your phone.
Microsoft has also made other gaming classics like Mahjong, Minesweeper available on Windows Phone and reccently updated Minesweeper, MahJong and Solitaire for Windows 8.1.