Did you know Potatoes are being used as unusual substitute for plane passengers for testing its in-flight Wi-Fi system? And that Boeing is using these humble Potatoes for testing? Many of the airlines offer in-flight Wi-Fi on their flights and the aircraft makers have been striving to improve their Wi-Fi signals, so that their passengers gets the best of Wi-Fi experience without being disconnected even at 35000 feet up.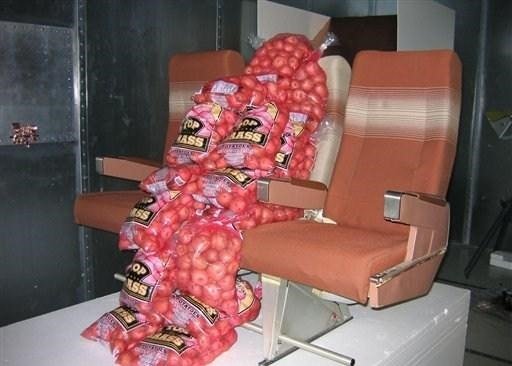 Engineers at Boeing are using sacks of Potatoes substituting for passengers and are striving to remove weak spots in in-flight Wi-Fi signals. And they need full planes for accurate results during Signal strength testing,  but people can't sit motionless for days during data gathering. And there come in the Potatoes, replacing humans.
But Why Potatoes?
"Potatoes because of their water content and chemistry — absorb and reflect radio wave signals much the same way as the human body does, making them suitable substitutes for airline passengers," reports MSN News.
And so Boeing bought 20,000 pounds of potatoes for testing.
Boeing has been doing this work since 2006 and pictures and videos shows airplanes loaded with sacks of potatoes on seats replacing passengers , while engineers gather various data of wireless signals in various spots.
So next time when you get strong in-flight Wi-Fi signals during the flight, thank the humble Potato for it!