While Microsoft runs the Windows Insider Program for Business, today, the Redmon Giant has announced to offer pre-release Windows 10 feature updates to Windows Server Update Service (WSUS) to IT Admins. The primary goal is to help Businesses figure out or offer them more time to check if their devices are ready for the new Windows feature updates.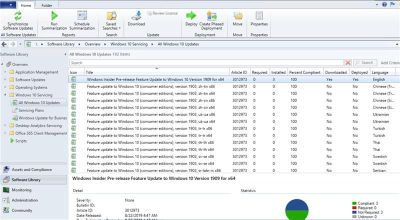 Pre-release Windows 10 feature updates offered to WSUS to IT Admins
While the Insider Program provided a way to get feedback on upcoming security, management, and productivity features, Pe-release will give IT admin ability to validate line-of-business (LOB) applications, business-critical functionality, and policies much ahead of release. The decision was taken as part of the feedback from Enterprise.
Note: While this option will be visible on every version of Configuration Manager, you must be running Configuration Manager, version 1906 or newer to select it.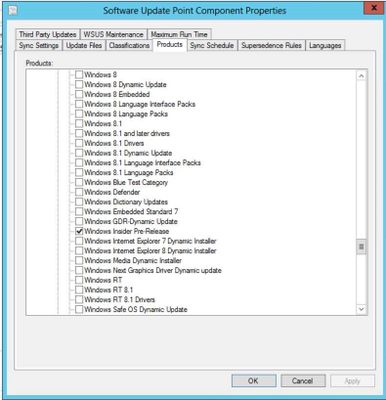 How to deploy pre-release Windows 10 feature updates in Business?
An IT admin can deploy pre-release feature updates via Configuration Manager. You will need version 1906 or newer to enable the pre-release feature. Launch the Configuration Manager with admin privileges and follow the steps below:
Open the Software Update Point Component Properties,  and switch to Products tab.
Select the box next to Windows Insider Pre-Release.
Next, the procedure is the same any organization's deployments using Configuration Manager. Go to  Software Library > Overview > Windows 10 Servicing > All Windows 10 Updates.
Once you reach the list of All Windows 10 Updates, you will see an option for "Windows Insider Pre-release Feature Update to Windows 10 Version 1909" as shown below:
Deploy the release the same way as any other feature update.
The next feature update is expected in October end or early November, and you have enough time to test it out with this pre-release. Start with Windows 10 version 1909; Windows team aims to release pre-release builds to Configuration Manager on a monthly cadence.
If you do not use Configuration Manager, and instead use other update management tools such as InTune or anything else, here is how you can deploy this build.
Read more at the official announcement here.