Microsoft is rolling out new changes to Presenter Coach in PowerPoint. It's a feature that helps users prepare in private to give effective presentations in public. The feature that was introduced in Microsoft PowerPoint last year is receiving new improvements and capabilities in the coming days.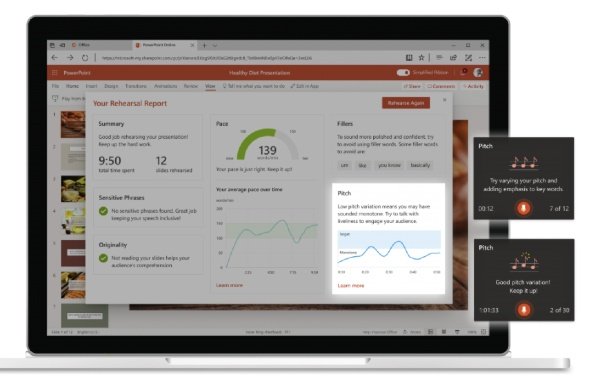 Presenter Coach in PowerPoint gets Monotone pitch & Speech refinement
Microsoft has published a new blog post addressing the fear of public speaking, which is one of the most common fears among people. The fear of public speaking could also affect your ability to give an effective and confident presentation.
Let's think about it this way. No matter how incredible your presentation actually looks on the screen, if you are not able to back it up with your strong interpersonal and presentation skills, all your efforts would be in vain.
Here's what makes Presenter Coach worthy of your time
First of all, it uses Artificial Intelligence (AI). That means it observes how you speak, how you present yourself, is your pronunciation correct, etc. Presenter Coach gathers all this information so that it can help you figure out pain points. Acting on AI-generated suggestions will be essential to successful presentations.
To use Presenter Coach, all you need is a microphone-enabled device, which runs PowerPoint. Alternatively, users can also use the external microphone. Users also need a stable Internet connection for maximum accuracy.
Microsoft has added a couple of new capabilities to Presenter Coach, which is available to all PowerPoint Web users through a free preview: Monotone pitch and Speech refinement. The monotone pitch feature listens to your tone of voice and offers real-time suggestions on how to keep your audience engaged.
Meanwhile, the speech refinement feature helps users correct your grammar and provide you with suggestions on how to phrase your speech better.
In its blog post, Microsoft wrote:
"Presenter Coach in PowerPoint uses AI to help you rehearse upcoming presentations. For instance, it flags issues such as talking too fast, saying "umm" too much, or just reading the text from your slides."
How to get started with Presenter Coach in PowerPoint
Go to the presentation you want to rehearse in PowerPoint's web version. Now, navigate to Slide Show > Rehearse with Coach and click the option "Get Started." With the help of Presenter Coach, PowerPoint Web users can easily rehearse their presentation and watch for real-time suggestions when a monotone pitch is detected.
Recently, Microsoft announced that Office users can remotely and wirelessly control PowerPoint presentations using Surface Earbuds.