AVG is one of the better known security software companies which provides security software for various platforms.. The security firm has added another feather to its cap by acquiring and online privacy organization, PrivacyChoice.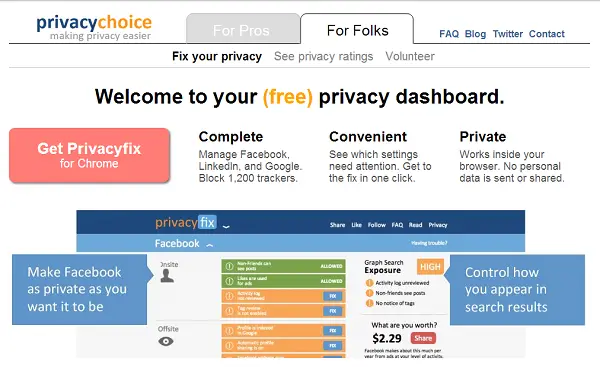 PrivacyChoice acquired by AVG
Founded in 2009, PrivacyChoice is an organization that makes internet surging secure and private, by letting users control their privacy through its range of products. The security provider via web and browser-based tools continues to help people around the world take control of their privacy.
Its flagship consumer-based web application, Privacyfix continues to remain in demand for addressing web users' privacy concerns i.e. protecting and preventing data collection. If you are not aware, the award-winning browser plugin allows users to manage their privacy settings across popular social networking sites like Facebook, Google, LinkedIn and thousands of other websites. With Privacyfix at hand, Web users from a single personalized dashboard can see which companies are tracking them online, which websites may share personal information, and which have experienced data breaches in the past.
Here's the text of the statement made by Sam Hendry, General Manager AVG Technologies AU.
"Our two companies share a vision of empowering consumers to manage their personal information and preferences as they live out their lives online. This is key part of our commitment to delivering privacy, protection and performance software solutions across multiple platforms and devices. We believe in allowing consumers to take control of their online privacy and this acquisition is a perfect demonstration of the active steps we are taking to support this vision."
PrivacyChoice's acquisition by AVG hints that Privacyfix could soon be made available to more than 150 million AVG customers around the world.
We hope that it would continue to remain a free service!