Leveraging Artificial Intelligence, Microsoft has added a new capability – Puppets to SwiftKey. The new addition will enable SwiftKey users to express themselves in a fun and interesting way. Using the feature, people could record themselves as a panda, cat, dog, owl, or dinosaur and send the short video message to dear ones.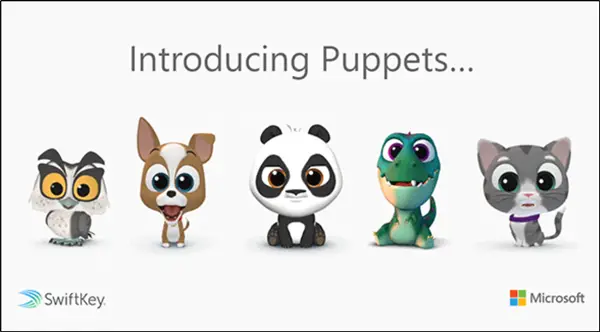 Puppets – a new feature for SwiftKey app
The feature will be a part of the SwiftKey beta program for Android. As such, it will not replace the regular SwiftKey app on your phone but will be downloaded as a second app. You can switch between the two and do a comparison.
We wanted to give SwiftKey fans a fun way to communicate with their loved ones beyond pre-defined GIFs. So, we created Puppets, a group of cute and furry friends that people can control just by being themselves, said Deepak Paramanand, the Product Manager.
The move from Microsoft is intended to make the mundane task of typing a fun exercise. SwiftKey is one of the most popular apps in online stores. It has already crossed the 300 million downloaded mark and is still counting.
To use Puppets feature, simply choose one of five animals and start recording a message (max time limit – 30 seconds). The feature via its joint facial detection and facial motion will recognize the expression and create an accurate animated animal copy it. The level of accuracy is very high (Unlike other animal emoji products, Puppets does not rely on or use 3D depth sensing).
Thereafter, a person can share it via one of the many popular communication apps supported by Android devices.
It is important to remind that the features in the beta app are in active development and might not work perfectly. Kindly bear with the minor flaws and imperfections. For more information on this topic and to try this feature, visit the Microsoft News page.