After the stunning Windows 8 devices launched in CES 2013, its now the turn of a gaming tablet. Razer revealed a Windows 8 gaming tablet Razer Edge at CES 2013 on January 9, 2013.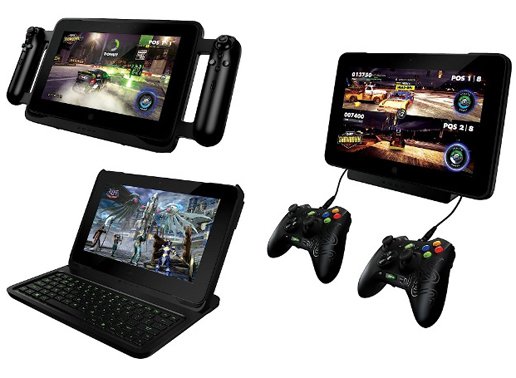 The result of the crowdsourced Project Fiona, Razer Edge is a 10.1 inch tablet running Windows 8 and has a 64GB solid state hard drive. Powered by Intel Core i5 processor, it comes with a 4GB RAM and a NVIDIA mobile graphics card. This gaming tablet will be available at $999. Razer had announced its Project Fiona late back in CES 2012.
If you are a hard core gadget freak and are looking for something more, you can go for the Edge Pro which is stuffed with Core i7 processor, 8GB RAM and 256GB SSD. If you are planning to buy the Razer Edge Windows 8 gaming tablet, you would be better off buying it with the optional add-ons to get the full effect.
Razer Edge weighs around two pounds and is comfortable in the hand. Razer Edge Pro will be available with a Gamepad controller priced for $249.99. This controller package includes vibration feedback and analog sticks.
Other add-ons include a Keyboard dock available for $199.99 and a docking station for $99.99. The Keyboard dock has the illuminated keys and the docking station has an HDMI output jack and USB ports. You can also buy the extended battery for $69.
Windows 8 tablets are a hit segment in CES this year and most of the tablets released so far are the mainstream units with integrated processors and mainstream processors. Razer Edge is a different handy tablet containing the gaming class components giving users the portability of a tablet form factor.