Microsoft is looking to automate teams provisioning with the help of a new productivity-booster app template for Microsoft Teams: Request-a-Team. This way, the company wants to help companies enhance their productivity to some extent and implement a collaborative approach across remote workforces.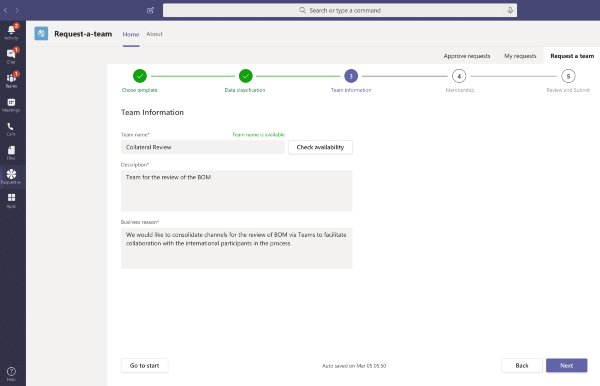 Request-a-Team app template for Microsoft Teams
With the introduction of the Request-a-team template, Microsoft says it wants to support and promote strategically focused Teams enablement.
Request-a-team enables a proper framework to automate the provisioning process depending on core teams and channel options that are important to optimizing usage. This should help companies implement time-saving practices on Teams, especially ones that enable faster response time for team requests.
Plus, it promises to offer a whole host of personalization options for companies to set repeatable team collaborative practices in place.
In its recent blog post, Microsoft wrote:
"We have heard your feedback and are aware that enterprise and departmental leaders are working to enhance productivity and collaboration, especially across remote workforces."

"Request-a-team provides a framework that automates the provisioning process based on core teams and channel options which are relevant to optimizing usage."
What is it?
Built using Microsoft Power Apps, the Request-a-team app template promises to optimize the new team creation process for enterprise organizations, courtesy of the support for standardization as well as practices when it comes to creating new team instances using wizard-guided request forms, and more.
How to enable reuse of best practices in Teams
Request-a-team collects information like business justification, access scope, and ownership, courtesy of easy-to-complete forms. End users can create teams from scratch, reuse existing internal teams, and/or take advantage of publicly available templates published by Microsoft.
The template allows Teams users to request a team by creating one from scratch or reuse existing internal teams. Teams users can use publicly available templates from Microsoft.
Request-a-team provides users with list dashboards and adaptive cards to let all Teams users keep track of progress and respond to requests as approvers. Approvers can respond to requests either from the Approve requests tab or within preferred channels using an adaptive card.
The app dashboard enables Teams uses to replicate an existing request. This way, approvers can make use of an alternative when it comes to responding to requests.
Last month, Microsoft Teams launched a Power Apps-based Incentives app template to help users stay engaged and motivated.