The latest report from Microsoft is an eye opener for companies that have laid restrictions on the usage of social tools within their workplace. As per the new Microsoft survey, nearly half of the employees say that the use of social tools such as Yammer, Microsoft Office 365, Microsoft Lync, Microsoft Dynamics CRM, etc. help increase their productivity. However the enthusiasm shown by the employees are often met with disappointments because many businesses are of the view that the use of social tools decreases productivity.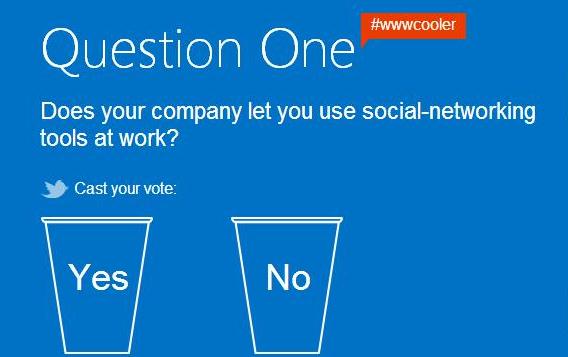 Adam Pisoni, Microsoft's general manager of Yammer says.
"Employees are trying to be effective in a world where the rules and software they were given are increasingly inadequate for the challenges they face on a day-to-day basis, they recognize in order to be successful in a rapidly changing world, they need to adopt new ways of working that are more collaborative and social. Yet there's a disconnect in the office. While employees are gung-ho and see social as a productivity tool, some IT departments and leaders remain wary".
The research says that China, followed by India, Turkey, Mexico and Russia are countries where use of social tools is most common. As you would expect these countries have experienced increased productivity as shown is the graph below.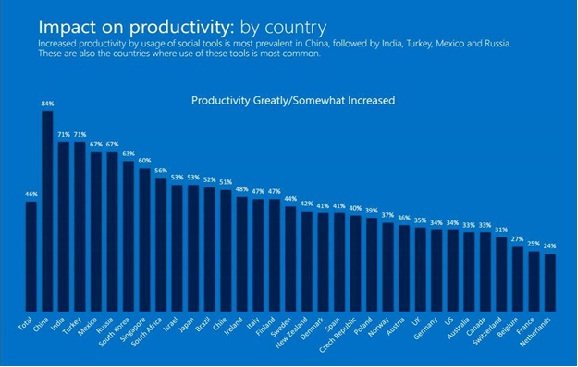 The Global survey conducted across 32 countries bought out the fact that the worker appetite towards using social tools have grown to a point where most of them are ready to invest their own money on it irrespective of company restrictions and apprehensions.
Charlene Li, founder and analyst at Altimeter Group, a firm that studies social media and other technology trends, expressed
"Employees are already bringing their own devices into their workplaces, but now they are increasingly bringing their own services as well".
From a Gender point of view, data from the research says that Women tend to use social tools to communicate with colleagues and clients as well as to share and review documents, while men tend to use social tools to grow their networks and research competitors. Other interesting trends and findings from the research can be seen here.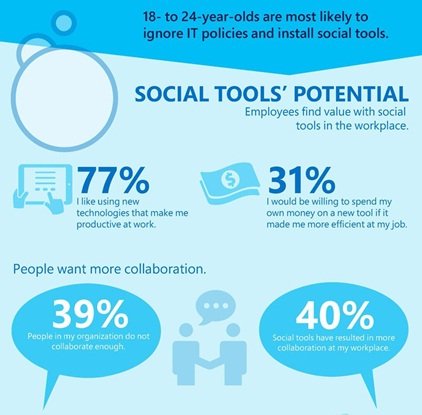 As a true innovator would do, Microsoft has a dedicated website theworldwidewatercooler.com that invites people all around the world to discuss about social tools. Here, participants can answer questions and share thoughts via Twitter directly from the site.