When compared to the previous year, an 18 percent increase in the vulnerabilities have been found according to Secunia, a software vulnerability management company. According to a vulnerability review published by Secunia, 15,435 vulnerabilities have been discovered from 3,870 different applications originating from 500 vendors in the year 2014.
Secunia Vulnerability Review 2015
This is a whooping 22% increase in affected products and an 18% increase in vulnerabilities when compared to previous year. 0.3% of the vulnerabilities exposed are extremely critical and 11% of them are highly critical. There were 25 zero-day vulnerabilities which were discovered in the year 2014.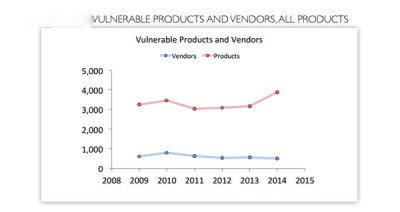 The comprehensive vulnerability report by Secunia shows that there were 1,035 vulnerabilities found in world's top web browsers like Internet Explorer, Google Chrome, Mozilla Firefox, Opera and Safari in 2014 – a clear 42% increase when compared to previous year.
The top 50 most popular applications on private PCs were exposed to 1,348 vulnerabilities in the year 2014. Fortunately, as large as 83% of vulnerabilities found in 2014 in all products had immediate patches available on the day of disclosure.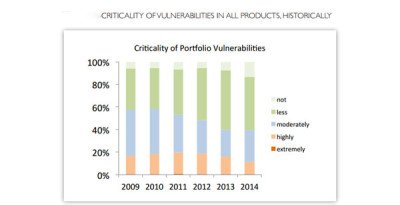 When it comes to third-party vendors, Secunia observed that there were no clear-cut pattern to vendor response times in responding to flaws found in open source applications which were affected.
Kasper Lindgaard, Director of research and security at Secunia said,
Every year, we see an increase in the number of vulnerabilities discovered, emphasizing the need for organizations to stay on top of their environment. IT teams need to have complete visibility of the applications that are in use, and they need firm policies and procedures in place, in order to deal with the vulnerabilities as they are disclosed
The full Secunia Vulnerability Review 2015 can be found here.