One of the best things about WhatsApp messages is they don't vanish automatically on their own, unlike stories. This is how we are able to search through our message history and figure of exactly what was discussed with friends, colleagues, and family members on WhatsApp at any given moment. But there are times when you wish you could delete that embarrassing text message you sent to someone a day before yesterday. This is where WhatsApp's new disappearing messages feature comes in handy.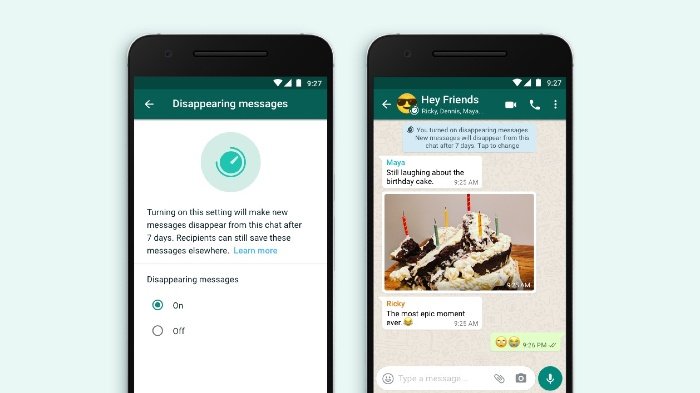 WhatsApp disappearing messages
Similar to Snapchat, WhatsApp messages will now disappear after a specific period – 7 days, to being with. In the future, you will have nothing to worry about an embarrassing photo or a text you sent to someone. You can simply choose to send a message with a 7-day expiry. Meaning, the message will remain visible only for 7 days.
After the success with ephemeral stories that disappear after 24 hours, WhatsApp has decided to experiment with this new format that targets individual conversations.
"Our goal is to make conversations on WhatsApp feel as close to in-person as possible, which means they shouldn't have to stick around forever. That's why we're excited to introduce the option to use disappearing messages on WhatsApp," the Facebook-owned company said.
When the option to make messages disappear is turned on, new messages sent to a chat will automatically disappear after seven days without any manual human intervention. Similarly, in WhatsApp groups, only admins will have control over turning on or off disappearing messages.
How to send disappearing messages on WhatsApp
You can enable disappearing messages in an individual chat. Go to WhatsApp > Tap the contact's name > Tap Disappearing messages (tap CONTINUE if prompted) > Select On (or Off in case you want to disable disappearing messages).
Read: Best WhatsApp Web tips and tricks you can use
Once you enable disappearing messages in the individual or group chat, new messages sent in there will disappear after seven days. Turning the disappearing messages feature on or off will not affect text or media you previously sent or received in the chat. In a group chat, only group admins can enable or disable disappearing messages.
WhatsApp is rolling out the disappearing messages option this month.