After Bing App update, Microsoft has released yet another useful update for iPhone users. This time it is the updated version of Skype, i.e. Skype 5.10. With this release, Microsoft has bought, Skype URI support to the iPhones and new improvements to the dialer. Now staying connected with friends and family is easier and cheaper through Skype as with only few clicks you can start the Skype conversation at any time and from anywhere.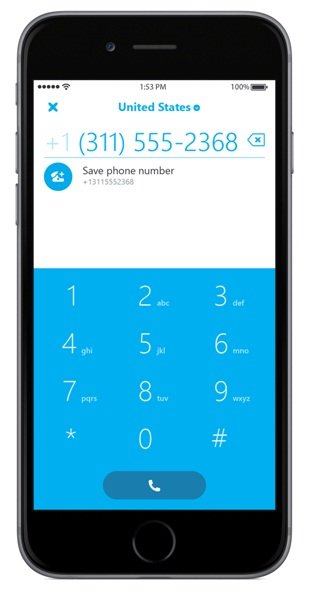 With Skype URI support, developers can easily make use messaging and calling infrastructure of Skype to start their conversation. So instead of developing their own app for chatting and calling purpose, Skype 5.10 with URI support allows you to use mobile app or mobile website for this purpose.
The new version of Skype 5.10 has got a new feature for dialer as well. Now with Skype you have an ability to save the phone numbers. Phone numbers that are there in the recent calls list or that has been entered into the dial pad can now be easily stored using the latest version of Skype. This will save lot of time as next time you don't have to search for that number again. Just create new contacts and enjoy the calls with your loved ones.
While browsing restaurant for making reservation from an app or mobile website that use Skype URIs, you can directly launch Skype and make calls by just clicking on the phone number. If you have Skype installed on your iPhone all you need to do is to tap either the Skype name or the phone number. Skype URI will open the Skype app for you to make a call or enable you to send the message in a matter of few seconds.
Lara Kingwell in her official blog on Skype website announced this news saying,
"Today we're releasing Skype 5.10 for iPhone, which brings Skype URI support back to iPhones and new improvements to the dialer making it quick and easy to start Skype conversations and stay in touch with friends and family."
So get this latest Skype app from the App Store and start enjoying it. What all you need is iOS 7 or later, that's it. You can share your views as well by posting your comment on Skype Community that will help Microsoft to develop better things in the future.