After iPhone, now its Android's turn to get the Skype update. Skype is one of the best apps used today for online conversation with friends and family. With the recent Andriod update from Microsoft your experience with Skype will definitely get better as Skype 5.2 now allows you to share photos with offline contacts as well.
Before Skype 5.2 update, it was only possible to share photo with your contact if he/she was online. But now this restriction is over. With Skype 5.2, sending photos to your contacts is easy no matter wheather they are online or offline. You can now send and share your beautiful photos as per your convenience.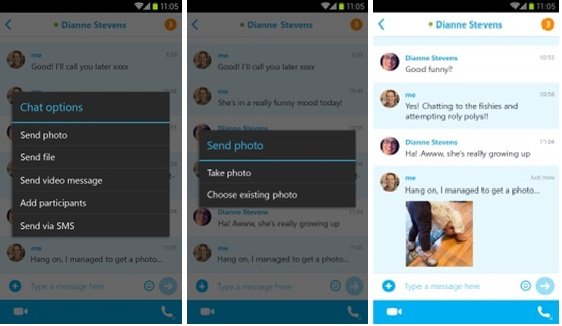 After you send your photographs whenever the recipient gets online he/she will see the shared photos in their chat history. It is not required for you to be online in order for the receiver to get the shared photos. Earlier this facility was only available with instant messaging apps like WhatsApp, Line, BBM etc. but now it is possible with Skype 5.2 as well.
Tom Huang in his blog on the official website of Skype mentions,
"With this update, you can now send photos to your Skype contacts at a time that's convenient for you, regardless of your contacts' online status. When they are back on Skype, photos you shared show up beautifully inline in the chat history, whether or not you're online – allowing you to easily carry on the conversation."
There are several other improvements made as well, some of them are as below,
Now Skype with 5.2 version on android phone you will be able to continue your video calls even if you navigate to some other application.
With Skype 5.2 the quality of the call has been improved even if you are on a low bandwidth.
Chats load faster, especially when opened from a notification
So now enjoy the new feature of Skype 5.2 by sending your beautiful photos, selfies, etc and share them with your friends and relatives, even when they are offline. You can download this new Skype from the Play Store and don't forget to share your views on Skype Community as your feedback can help Microsoft to develop more such enhancements for you in the future.