Microsoft has recently announced new Skype for Business app for Windows Phone. Back in November 2014, Microsoft unveiled Skype for Business as a Lync replacement and now Microsoft brings Skype for Business with its own dedicated Windows Phone app.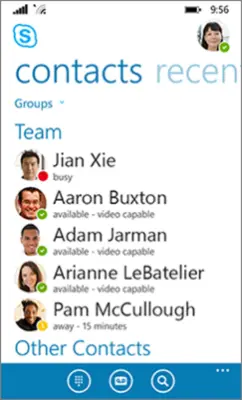 Skype for Business app for Windows Phone
The newly updated app is coming with some notable functionality improvements and enhancements which include more than 100 emoticons, new UI, new ideas of conversation notifications. The Redmond giant has also improved the security with your data encryption making the voice-mail and conversation history encrypted and more secure by default.
Also, if you are running the latest server software, all your recent conversations will now be synchronized across all your devices, regardless of which device they took place on.
How you can upgrade
If you are using Lync app on your Windows Phone, it will be upgraded automatically and replace the existing app and tile but if not you can download it from the Windows Store.
Windows Phone 8.1 users can download the new Skype for Business app from Windows Store. Users of Windows Phone 8.0 Lync 2013 or Lync 2010 will have to continue using these apps, however it will still work and remain compatible with the new Skype for Business server.
Do upgrade your Lync app to new Skype for Business and do not forget to leave your feedback.