Users who did not have Skype application installed on their machine could still use the service for communication via Skype for Web. Now, in an effort to align the web version of the app with the existing mobile and desktop versions, Skype for Web has received four new updates. These include:
Ability to make phone calls
Receive notifications
Invite non-Skype users to a chat and
Added functionality to watch YouTube videos directly from Skype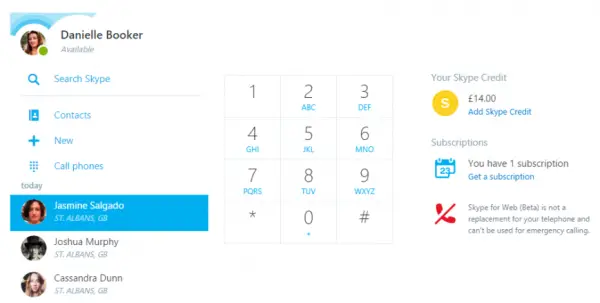 Skype for Web gets new updates
One of the most exciting features we recently launched to Skype for Windows desktop users is a new way to add people to a Skype chat. Now we've brought this feature to Skype for Web, so you can create a chat with anyone by pressing +New and then 'Share conversation, say the blog post.
To check the the above-mentioned features, sign into Skype for Web, look for the phone calls tab. When found, chose the country where you want to make a call, enter the landline or mobile number and click dial.
Also, Skype had rolled out a new feature for Skype for Windows desktop that enabled Skype users to add anyone to a Skype chat irrespective of whether they hold a Skype account. The same courtesy has now been extended on Skype for Web. A user can start a new conversation by pressing +New > click Share conversation.
Upon completing the action, user will receive a unique URL that he can share with anyone via email or via social network. When the recipient finds the link, he simply needs to click it to join a conversation. Even if the recipient does not hold a Skype account he can still join the conversation as a guest on Skype for Web.
Finally, you can also watch a YouTube video directly in Skype for web without having to open a new browser window.  When your friend sends you a YouTube link during your Skype conversation, you simply have to click the YouTube video link > press play and watch the video directly on Skype for Web.
The web version of the Skype allows users to have access to all the normal YouTube controls, including volume and full-screen.