A few days back we had posted that Outlook.com had come out of Preview Status and become the world's fastest growing email service. This continuously improving modern email service has been built from the ground up. As you know Outlook.com is more than just an email service. There are lots of ways you can stay in touch using Outlook. You can chat, add contacts from popular social networks, manage your Facebook and Twitter content and even post comments or accept friend requests—all from your Outlook.com inbox.
"You can set up Outlook.com to work with your Facebook and Twitter. Add contacts from your Facebook, Twitter, LinkedIn and other networks, so that changes, such as address updates, in those accounts automatically update in Outlook.com."
Microsoft has posted a video on its YouTube channel that shows Skype integration with Outlook.com. This feature is not yet available but will be coming soon!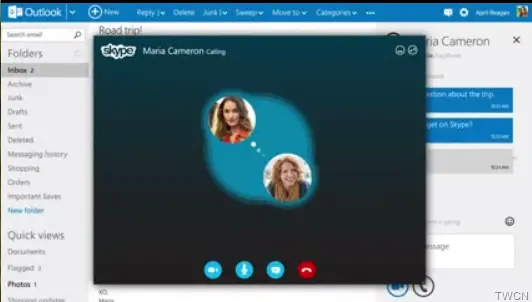 The video shows how you can quickly launch a Skype video call without having to leave the Outlook.com. It'll be one of the coolest feature. I'm sure Skype support within Outlook.com will be liked by its users. Check out the video.
http://youtu.be/tUGvkIkWcWI
Hoping the feature will soon be made available to all Outlook.com users.