Today, Microsoft launched Skype Qik, an app that allows people to send short video messages instantly. The company brands Skype Qik as a free, lightweight spontaneous mobile video messenger that can be used to capture moments and shares them throughout the day. The first version of the app is available on Windows Phone, Android and iPhone devices starting today.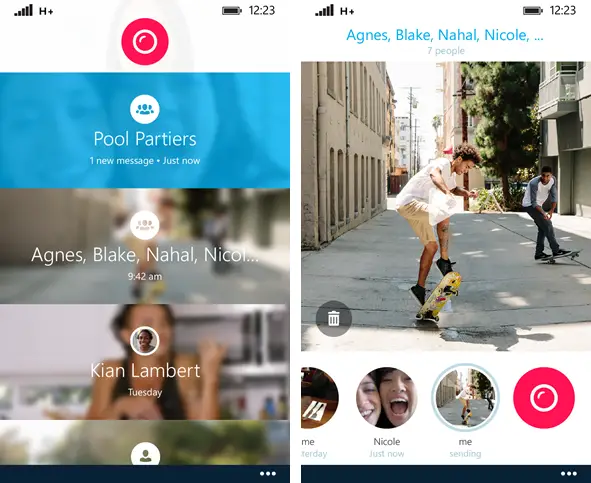 Announcing the launch, Piero Sierra and Dan Chastney said,
"Skype Qik is a new video messaging app that gives you a totally effortless way to capture the moment, share laughs, and chat with groups of friends. We know you love your weekly Skype calls with family or friends; Qik keeps you connected in between. Dinner with friends? Bored at work? Having a great day in the park? Go on, share it right from your phone. You'd be surprised how quickly a short video can turn into a great conversation".
Skype Qik vs Skype video chat
Qik had already made an entry as an online video streaming app 7 years ago. It became so popular that it even beat YouTube in video streaming from mobile devices. Due to its popularity, Qik was acquired by Skype and now it's re-entering as Skype Qik for Windows Phone, Android and iPhone mobile devices.
Now the question is why to use Qik, when you have Skype to video chat? Here's the answer.
Skype Qik is as simple to use as you so text messaging. So with Skype Qik you go beyond face-to-face video chatting and start video texting. Yes, it's just like texting, but through videos. It's certainly interesting because you ask questions through a video clip and answer through a video clip. Besides, just like you like to share images with your friends and family; now you can share the videos created by you. It's quick, real time and fun-filled.
Microsoft is making sure that Skype Qik doesn't get lost with other video messaging apps like Hangout,  iMessage, Facebook Messenger, Snapchat or Skype, and have thus positioned Skype Qik differently. To install the app, users will have to use their mobile numbers, and then there is no text chat, no audio but pure video messaging. The app is truly quick and lands into a video interface where you can record a 42 sec clipping and send to multiple recipients.
The video messenger app is available and can be downloaded from  Windows Phone Store | Google Play Store | Apple App Store.
Check it out and let us know what you think of it.