The troubling incident reported about Snapchat suggests the service was breached. Members of anonymous online messaging forum 4chan claim to have accessed gigabytes of private photographs shared on Snapchat by breaking into cloud storage servers of a third-party application that lets Snapchat users save images. The whole incident came into light following celebrity hacking scandal, just a week ago. Such instances demand increasing attention to online privacy concerns.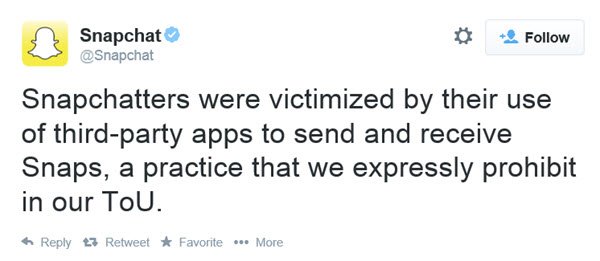 Snapchat hacked
Snapchat has put the onus on the third-party apps.
The company had the following to say in its defence: "Snapchatters were victimised by their use of third-party apps to send and receive Snaps, a practice that we expressly prohibit in our Terms of Use precisely because they compromise our users' security.
It further tweeted,
"We vigilantly monitor the App Store and Google Play for illegal third-party apps and have succeeded in getting many of these removed."
Snapchat is an ephemeral messaging service that allows users to transfer pictures that disappear after a few seconds.
4Chan website that plotted the attack on Snapchat started showing up a slew of nude pictures claiming, all of them snagged from millions of Snapchat users. It further warned that up to 200,000 images could be released soon in an event dubbed 'The Snappening'.
Earlier too, there have been complaints about Snapchat suffering from spam messages being sent out from users' accounts without their knowledge. What's worrying for the Snapchat users is that a poster on 4Chain website suggests that the full leak will take place on 12 October, i.e. tomorrow.
Whatever the status of compromised Snapchat users' images appears to b, it is likely that photos do not appear to have come directly from Snapchat, providing the service an escaping route. What's your take on Snapchat hack?