Microsoft Fuse Labs is all set to promote the existence of its very own social network service – Socl via addition of some new and interesting features. The service which is still under the beta stage with over 400,000 registered users has received some major upgrades. It now offers a set of simple, fun "create experiences" that tend to make it easier to express and share ideas with people worldwide.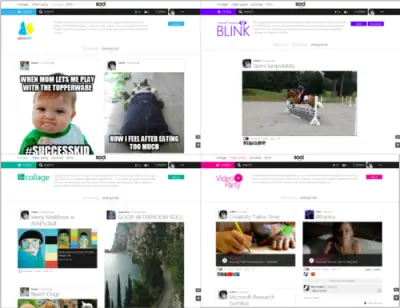 By adding the new features/ new creation tools, Microsoft aims to keep its social networking service somewhat relevant to help users share video and image content on the service, easily.
Here's the list of new additions made to Socl
Socl

new additions
Picotales
It's basically an Internet meme generator that overlay some text on an image
Blink
This addition allows you to blend photography and video together. Its currently available for Windows devices.
Collage
The existing collage feature that comprises of images, links and videos found on the web too has been enhanced! It now includes an 'upload' option. You can search for images, create a photo montage and share it on other social networks.
Video Party
Video Parties are shared video experiences on Socl – great for crafting a quick playlist to share with friends.
Apart from the new additions to create experiences, Socl has been optimized for touch devices with a responsive design. The new extras will make it easier to create more digital content, shareable with other social networks such as Facebook & Twitter.
For more information and to learn more about Socl, see this page.