With Windows 10 Technical Preview Build 10061, Microsoft has decided to bundle the Solitaire Collection with Windows 10. Many fans of classic games like Solitaire, Minesweeper, Hearts were left disappointed when Microsoft decided to remove it from Windows 8. Such games have been bundled with earlier versions of Windows and had a dedicated fan following.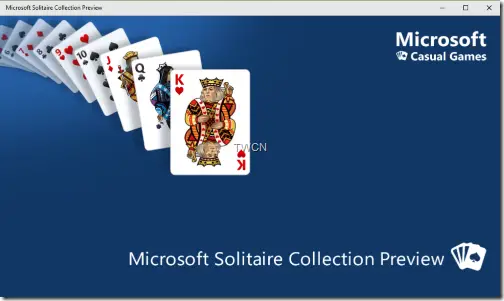 Windows 10 bundles Solitare game
Those of you who have installed Windows 10 Technical Preview Build 10061 will find Microsoft Solitaire Collection Preview Build bundled with it. One can find it under 'Recently Added' category when All Apps is clicked. While welcoming to the Preview Build of Solitaire Collection, Microsoft informs that it's the 25th anniversary of the popular Solitaire game:
In celebration of Microsoft Solitaire's 25th Anniversary on Windows, we are proud to show you a preview of our latest version of Solitaire on Windows 10.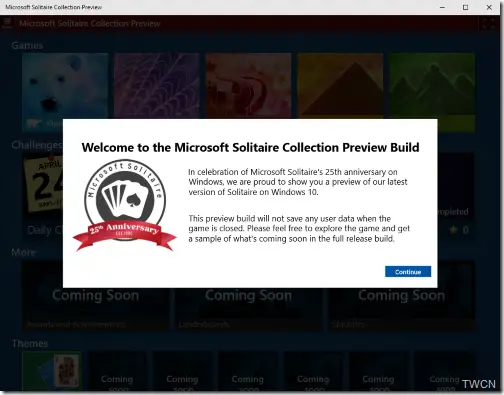 As one continues further, one can see 5 different variations of Solitaire – Klondike, Spider, FreeCell, Pyramid and TriPeaks . Apart from that you also have Daily Challenges to add more fun. Also Coming soon will be Awards and Achievements, Leaderboards and Statistics.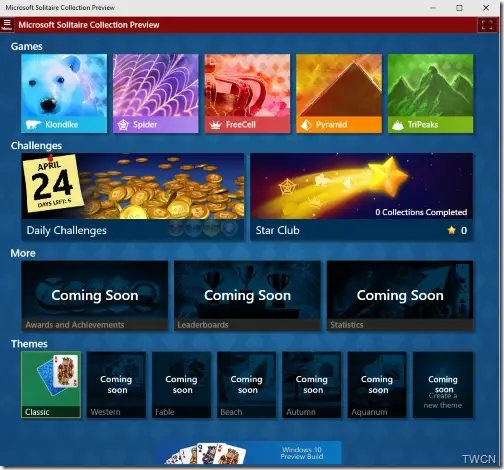 You can choose various themes too. At present only the Classic theme is available. Other themes will be added soon. Coming soon also will be Custom themes – where one can create their own theme from photos on your computer.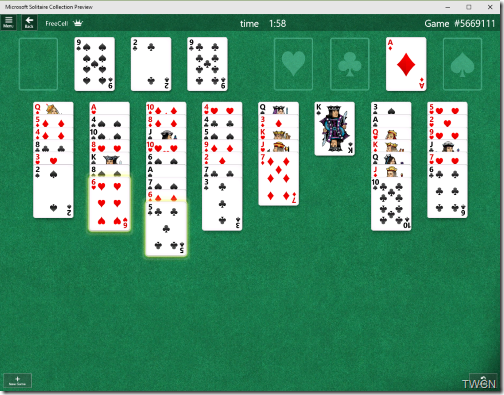 Solitaire collection games are the Top Free games in Windows Store and one can get these from Store also but getting it bundled along with Windows OS isn't quite the same thing, making the OS, a complete package.
This preview build will not save any user data when the game is closed. If you have installed the Windows 10 Technical preview Build 10061, then explore the games and get a feel of what's coming soon in the full release build.