Last month when Winamp announced that it is shutting down, it took the entire world by shock. In the real sense of the word, it marked the end of an era. In order to honor the "engineering skills and passion", Spotify, a popular digital music service has launched Spotiamp, a music player that borrows Winamp's user interface and a lot of other functionalities.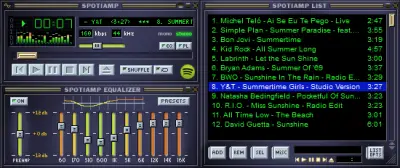 Users will require a Spotify premium account to access to Spotiamp. As of now the player is only available on Windows. Spotiamp offers support for Winamp's visual plug-ins and has an inbuilt radio feature. You can shuffle your music, and make good use of its equalizer, as well.
Ever since Winamp called it a day, many rumors of its accusation started circulating in the space. With over millions of users, Winamp is still one of the most popular media player among PC users. And as announced, the player isn't available for download from its official website, although its installation file can still be located on many a software portals.
Many people blame AOL's poor management for this beautiful app's fall. Winamp was one of the oldest, yet a very functional media player.
While the odds of its accusation isn't completely off the table, but if you want to try something else now, you can always try some of the alternatives of Winamp.
TIP: Sidify Music Converter will help you convert Spotify to MP3, AAC, FLAC, WAV audio.